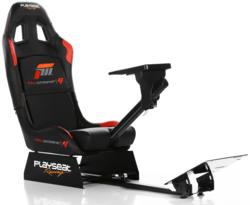 Redmond, WA (PRWEB) October 06, 2011
Redmond-based Playseat America today announced the Forza 4 Revolution Playseat, guaranteed to improve your racing performance and bring the ultimate Forza 4 driving experience home.
The Playseat Forza 4 Edition Revolution Sim-Racing Seat is modeled after real race seat styling, and consists of extra strong, lightweight, black powder coated tubular steel framework with high-tension spring and wire system. The seat chassis and wheel/pedal support framework are manufactured using extra strong, heavyweight, powder coated steel with specially designed steel tubing featuring aluminum quick release pressure handles to allow for multi-point adjustment of the peripheral support plates while preserving the framework. The high profile side bolsters with ultra high-density foam create a fully upholstered feel and is featured in the highest-quality synthetic leather available with official Forza 4 branding. The Forza 4 Edition Playseat also includes reinforced synthetic leather patches in the high wearing areas to reinforce durability, features a removable seat back and base cushions and a patented fold down system for easy storage.
The Forza 4 Revolution features a newly patented, fully adjustable steering wheel support plate to allow for preferred angle and quickadjustment of wheel location while flawlessly support even more PC and console wheel & pedal sets on the market [including Fanatec CSR/Porsche and Thrustmaster T500RS sets]. The Forza 4 Edition Playseat will also be Playseat's first sim-race chassis to feature Playseat's new, fully adjustable foot pedal plate. This new foot pedal plate now allows for full support of Fanatec's CSR/CSR Elite/Porsche Club Sport Foot Pedal sets in addition to existing sets already supported, and allows drivers to adjust their foot pedals to the perfect driving angle.
The Forza 4 edition Revolution fully supports Playstation2, Playstation3, Xbox, Xbox 360, Wii, and PC wheel/pedal sets, including MadCatz wireless wheel [XBox360], Thrustmasters T500RS [PS3/PC] and 458 Edition [XBox360] and Fanatec's CSR/CSR Elite/Porsche wheels and Club Sport Pedals [XBox360].
Forza 4 Playseat will be available by the middle of October. Recommended for ages 14 and up.
Playseat recently announced it is now offering customers free standard shipping from playseatusa.com – through January 1, for online orders of every product. The company is broadening its online free shipping policy to all customers in an effort to improve the online shopping experience for the holiday season.
About Playseat America
Playseat America, playseatamerica.com and playseatusa.com is the official Playseat distributor for North & South America and The Ultimate Gaming Experience. Since 2002, Playseat has striven to provide gamers with highest quality gaming furniture available.
# # #