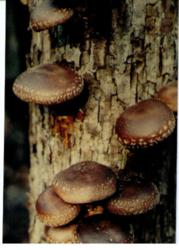 Shiitake Mushrooms: "We know and understand how to transfigure all environments into joy. So diseases of the human condition which involve griefs and aches, wounds of nurturing, and misunderstandings of the nature of self are alleviated by our presence."
Perkins, Oklahoma (PRWEB) October 11, 2011
"Mushrooms are more than food," according to Dr. Sandra Williams, shiitake mushroom log kit designer and owner of Lost Creek Mushroom Farm. "Like many of Nature's creations, they bring gifts beyond being fuel for our bodies. Mushrooms, cultivated and wild, are revealing more benefits than we ever dreamed of, including effects on emotions, creativity, self-expression, and general well being."
How does Williams know what gifts the mushrooms have to offer? They tell her. At first they spoke through an intuitive counselor, Eileen Hetherington. They talked about their abilities for increasing human happiness, healing illnesses, stimulating creativity, balancing personalities, and expanding spiritual awareness.
Williams has been learning to communicate with mushrooms herself, just as George Washington Carver reported learning directly from peanuts, Henry David Thoreau talked with trees, and Luther Burbank received information from plants. One of her first direct experiences with mushrooms happened in the woods of northern California.
"I put my hand on an artist's conk mushroom growing on a hollow tree trunk," she said. "My body tingled, my lips vibrated and felt swollen. Then I was inside the mushroom, inside the tree, feeling what the mushroom felt."
"It was so happy to be itself; pleased and thankful to be connected to the tree and that the tree was connected to the ground, and that the roots went deep into the earth."
Just before the holiday push for Lost Creek Mushroom Farm Shiitake Log Kits, the mushroom entrepreneur couldn't sleep, anxious about the upcoming sales season. "I went out for a walk about 4:30 am. I felt that feeling again – but now it was about me. I was so happy to be myself, just as I was, and I was deeply grateful. This was a gift of self-perception from the artist's conk mushroom."
Nutritional and Health Benefits of Shiitake and Portabella Mushrooms
The nutritional benefits of edible species have been known to science for a long time, as have many of their medicinal properties.
Shiitake (Lentinus edodes) is the second-most popular mushroom worldwide. Shiitakes are high in protein, low in fat, and contain compounds that strengthen and stimulate the immune system, lower cholesterol, regulate blood pressure, and kill viruses and tumors. "I've heard that in Japan, which has the highest overall cancer cure-rate," Williams said, "shiitake-reishi mushroom extracts are the first line of treatment against cancer."
The portabella (Agaricus brunnescens, including crimini and baby bella) was created from the button mushroom and has developed its own forms and flavors. It provides protein, is low in fat and has no cholesterol. According to Dr. Williams, "Portabellas say they can 'direct the activities of the spleen and bone marrow so that the proper and correct shape and formation and amount of human blood cells may be produced.'"
"We need research to investigate the properties described by these mushrooms," Williams said. "One mushroom claims it heals corrosion in the heart lining. There is much of value to be learned."
Spiritual and Emotional Healing Gifts of Shiitakes and Portabellas
"The spiritual and emotional healing gifts, known to our ancestors, are being rediscovered now as the mushrooms are communicating. They want us to know their gifts and use them," Williams adds." After more than a year of conversations with mushrooms, I am convinced we should listen and respect their information."
The shiitake brings "uniqueness, joyful expression and a way of dwelling in joy. We particularly relieve the oppression of old griefs upon the heart and spirit."
The portabella said, "We fortify in the human the sense of well being and rightness on their path. To the human spirit we offer a grounding force which aligns the human with the sense of wholeness …"
"We are Medicine for the Soul," the mushrooms told Williams on their first visit with her. We are trying to get people to hear us. We are tired of just being bought because we taste good. Please, please tell people that we have much more to give."
Lost Creek Mushroom Farm produces shiitake mushroom log kits available at http://www.shiitakemushroomlog.com; by phone at 1-800-792-0053; and mail order, PO Box 520, Perkins, OK 74059. Request a free brochure. 10% of Lost Creek Mushroom Farm sales are donated to Mushrooms in Ghana Project.
Dr. Williams is writing a children's book about mushrooms and a book for adults, "Spiritual Gifts of Mushrooms." She can be reached by email at lionmane(at)provalue(dot)net.
###