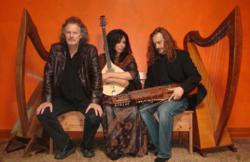 One thousand years ago, Irish musicians played magnificent harps strung with solid brass. Patrick Ball is one of the rare harpers that plays in this ancient tradition
San Francisco, CA (PRWEB) October 06, 2011
"Legends of the Celtic Harp" brings together an incredibly talented trio of Celtic harpers in an enchanting show that celebrates the history of the harp with beautiful music and captivating stories. These three Celtic harpers have recently assembled to present "Legends of the Celtic Harp," a show that resurrects the lost art of storytelling with a musical journey into the heart of this legendary instrument.
Three of the top three Celtic harpers in the world, Patrick Ball, Lisa Lynne and Aryeh Frankfurter, have banded together in a dramatic ensemble that takes audiences on a journey into the myths, magic and fabled history of their captivating instruments.
Patrick Ball is an American master of the Irish Harp and an intriguing spoken word artist. He has recorded nine instrumental and three spoken word albums which have sold well over a half million copies and won national awards in both the musical and spoken word categories.
Patrick has performed his critically acclaimed concerts and solo theatrical productions throughout the United States, Canada, Ireland and the UK, funded in part by awards granted by the California Arts Council and the Circle of Excellence Award from the National Storytelling Association. For more information about Patrick Ball, visit: wwwpatrickballcom.
Lisa Lynne is a multi-instrumentalist and performer who is recognized around the world for her original music featuring her Celtic Harp. She is widely acclaimed for composing memorable and heartwarming melodies on the Windham Hill / Sony Music labels that have repeatedly placed her in the Top 10 and Top 20 on the Billboard New Age Music Charts.
Lisa tours year round, performing at large US festivals and performing art centers. Her work in therapeutic music has gained recognition from NBC, CNN, Fox News Atlanta and numerous newspapers and magazines, including the Wall Street Journal. Lisa's music is heard throughout the award winning PBS special "Alone in the Wilderness," amongst many other soundtracks for commercial television and independent films.
Aryeh Frankfurter is a renowned Celtic Harper and world traveling multi-instrumentalist, who went from virtuosic progressive rock violin to intricate Swedish folk and Celtic music. Aryeh began with the Classical violin at the age of three. His early studies and successes led him to explore various ethnic and international musical genres.
Aryeh taught himself to play a variety of instruments bowed and plucked and most recently the rarely seen Swedish Nyckelharpa. His uncommon approach to the Celtic Harp and Folk Harp repertoire and his numerous critically and commercially successful albums have earned him credit as a musician and recording and performance artist of extraordinary talents and abilities. For more information about Aryeh Frankfurter, visit: wwwLionharpcom.
"One thousand years ago, Irish musicians played magnificent harps strung with solid brass. Patrick Ball is one of the rare harpers that plays in this ancient tradition," said Lisa Lynne. "The wire-strung harp is played with fingernails to bring out that crystalline, yet deeply resonant quality that the kings and chieftains of the times enjoyed. The sound of the harps was the sound of Ireland. "Legends of the Celtic Harp" features both wire strung and the more modern nylon strung harps along with other rarely seen instrumentation from early times. I encourage you to check out more information about harps at: http://www.larkinam.com/Articles/ArtCelticHarpHistory.html."
"Legends of the Celtic Harp" will perform at the following locations:
October 28th at the Unitarian Fellowship located at 5th and C Streets in Ashland, Oregon. For more information, call (541) 535-3562 or visit: http://www.stclairevents.com/tickets_20111028.htm.
October 29th at The Eugene Hotel located at 222 East Broadway in Eugene, Oregon. For more information, call (541) 345-4141;
October 30th at The Old Church located at 1422 SW 11th Avenue in Portland, Oregon. For more information visit info@gadger-music.com;
November 12th at Spreckles Center for the Performing Arts located at
5409 Snyder Lane in Rohnert Park, California. For more information, visit http://www.rpcity.org/index.aspx?page=231.
November 13th at Freight and Salvage Coffeehouse located at 2020 Addison Street in Berkeley, California. For more information, visit http://www.thefreight.org/legends-celtic-harp.
January 14th at the Sunnyvale Theater located at 550 E. Remington Drive in Sunnyvale. For more information, visit http://sunnyvale.ca.gov/Departments/CommunityServices/Arts/EveningsofCulturalArts.aspx.
About Lisa Lynne
In addition to touring and performing concerts, Lisa is the founder of the "Harps for Hearts" program. This innovative program brings healing music to those in need. Partnering with the City of Hope, as well as several Kaiser Permanente locations, Lisa has brought healing music to patients throughout California. Lisa is a popular San Francisco wedding musician, Bay Area memorial harp player, and performs at many other public and private events around the world.
For more information about Lisa Lynne's upcoming performance at the Society for the Arts in Healthcare Conference or any of Lisa Lynne's music and activities, call her at (888) 287-2162 or visit her on the web at wwwLisaLynnecom.
###