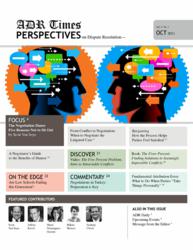 ADR Times is an online dispute resolution community and trusted news source exploring mediation, arbitration, negotiation, diplomacy, and peace.
Beverly Hills, CA (PRWEB) October 21, 2011
Happy Conflict Resolution Day, and Happy 1st Birthday to ADR Times!
In celebration of its 1st year anniversary, ADR Times is launching a monthly newsletter, offering insight and commentary on content that is positively transforming the fabric of identifying and resolving conflict. View the inaugural issue at: http://www.adrtimes.com/newsletter.
Over the course of the past 12 months, ADR Times has morphed from an interactive blog into a vibrant dispute resolution community and trusted news source for unbiased journalism covering negotiation, mediation, arbitration, diplomacy and peace. Not only has ADR Times witnessed the emergence of a dynamic and collaborative culture amongst dispute resolution enthusiasts, but the online community has also welcomed the views and interests of neighboring professions under the social sciences umbrella.
For more information, please contact:
Ms. Mikita Weaver, Editor-in-Chief
(800) 616.1202 / editor(at)adrtimes(dot)com
http://www.ADRTimes.com
###