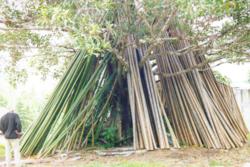 Volker Kleinhenz - Agriculture Manager
Phnom Penh, Cambodia (PRWEB) October 07, 2011
In this chapter on "Aspects of Bamboo Agronomy" various aspects of the growth and development of bamboo are reviewed, including growth cycles of plant parts, effects of aging on important plant tissues, uptake of water and nutrients, photosynthesis, storage and translocation of photosynthates and nutrients, and accumulation and partitioning of biomass and nutrients. Also discussed are how these aspects can be manipulated with agronomic techniques, such as management of standing-culm density, culm-age structure, leaf area, and leaf-age structure. Selected aspects of how the environment (i.e., water availability), soil physical properties (such as slope, texture, bulk density, moisture-holding capacity, and soil temperature), and soil chemical properties (such as pH, salinity, and nutrient availability) impact bamboo production are outlined. This review also discusses how the environment can be managed with irrigation, terracing, tillage, covers and mulches, canopy adjustments, and fertilization with optimal amounts of nutrients, nutrient ratios, schedules, and forms of fertilizer.
Besides providing an overview of his scientific publications the website summarizes his rich international career spanning 18 years during which he managed agriculture across the globe. He developed hands-on experience in procurement of raw material, devising agriculture processes for maximizing effective production, and in implementing quality control systems. During a previous assignment as "Manager Agriculture Division" in Egypt he was responsible for acquiring, scheduling and applying fertilizers worth $2.7m p.a. for an agricultural acreage of 5,685 ha (14,048 acres). As "Director Quality Management" in Germany he was responsible for developing quality assurance systems by developing relationships with key agricultural producers and retail customers. As "Chief Agronomist" in India he developed cropping plans and packages of practices for up to 2,688 ha vegetables in India.
Volker's professional qualifications including his CV and Resume in different formats, his publications, presentations and a number of packages of practices for several vegetable crops can be retrieved from his personal website. These details are also outlined at Volker's LinkedIn profile.
###