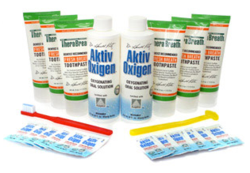 Save over 58 percent and have the chance to earn up to $157 in free bonuses on top of the savings!
(PRWEB) October 10, 2011
TheraBreath is bringing customers a great, limited time deal with a special sale on the company's bad breath fighting Bonus Paks set to launch on October 10. TheraBreath Bonus Paks give consumers the chance to stock up on TheraBreath oral care products, save over 58 percent and have the chance to earn up to $157 in free bonuses on top of the savings. In addition, shoppers receive free shipping within the US and Canada on all Bonus Pak orders during the special sale. For those that struggle with bad breath halitosis, dry mouth and other oral health issues, this is an opportunity to pursue.
TheraBreath offers eight Bonus Paks to combat any kind of nose, throat and mouth problems consumers may be having. On top of the savings earned by buying the Bonus Paks instead of each item individually, the right Bonus Pak can ease all sorts of oral health problems. Halitosis sufferers can get a Bonus Pak suited to their needs. Finally, bad breath can be conquered once and for all.
Halitosis isn't the only problem TheraBreath can eradicate. TheraBreath even offers a Bonus Pak to help eliminate bad breath from post-nasal drip and dry mouth. Whatever the oral health issue, there's a TheraBreath Bonus Pak aimed at getting rid of the problem.
All Bonus Paks are a markdown of at least 58 percent off of their regular price, and remember - during the special sale, free shipping is available to the buyer for orders within the US and Canada. So for those suffering from halitosis and looking to ward off gum disease and more serious medical issues, TheraBreath is the best bet. With these savings, there's no time like the present to stock up on necessary oral care products. TheraBreath has been providing high-quality products to customers since 1994. Seventeen years of quality and experience comes with the TheraBreath name, and the Bonus Paks are a great sampler for those looking for oral health products.
Over six million people in 98 different countries have successfully used the TheraBreath System formulas. The formulas help eliminate bad breath and allow users to gain newfound self-confidence. With offices located in Los Angeles, TheraBreath is the world's top premium oral care system.
Corporate Address:
Dr. Harold Katz LLC
750 N. Highland Ave.
Los Angeles, CA 90038
Los Angeles TheraBreath Office:
10289 West Pico Blvd.
Los Angeles, CA 90064
1-800-963-9273