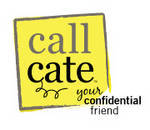 Talking about your problems eases the pain, helps cope, and frees the mind.
St. Charles, Illinois (PRWEB) October 11, 2011
Clients living with infidelity in the home but not willing to leave but ready to explode---Call CATE. Clients living with a cancer diagnosis and want to talk about how scared they are everyday but don't want to burden anyone with that---Call CATE. Client's spouse driving them nuts---Call CATE. Husband after 23 years wants a divorce, don't know where to turn---Call CATE.
Situations arise and everyone needs someone to talk to but many don't have anyone, now there is a service that provides a friendly listening ear. Call CATE provides someone to help clients look at problems objectively, who they can speak to candidly and without hesitation.
Clients log onto the web site at http://www.callcatenow.com, book a call, and call an 800# at their scheduled appointment time it is that easy. Appointments are purchased in 30 or 60 minute blocks for $1 per minute.
###