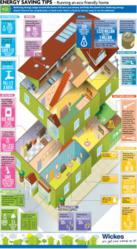 Harrow, Middlesex (PRWEB UK) 7 October 2011
Wickes, a popular retail outlet for DIY enthusiasts, has just published a new section on their website demonstrating how homeowners can significantly cut their energy bills while also helping to reduce overall greenhouse gas emissions throughout the UK. A new website page with an easy-to-understand infographic has been developed containing a host of tips consumers can use to cut down their energy usage and, as a result, cut their electricity and heating bills.
Coming at a time when many power companies are hiking the cost of electricity and gas, the 'Running An Eco-Friendly Home' section is a invaluable source of information for homeowners wishing to avoid making costly mistakes when it comes to energy usage in the home. A number of important areas are covered, such as electricity usage, water conservation and insulation. What's more, many of the energy saving tips included cost little or nothing to put into practice.
It's a win-win strategy for homeowners looking for ways to make their properties more environmentally friendly, while also significantly lowering the cost of their energy bills. For more information on 'Running An Eco-Friendly Home' click on the link below.
http://www.wickes.co.uk/pcat/energysavingtips.
###