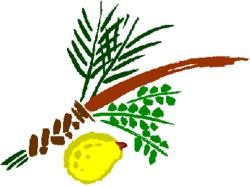 New York, NY (PRWEB) October 10, 2011
Stonehenge Partners, an owner and operator of luxury apartment buildings in New York City, announced today that it will build the first Sukkah in the Times Square district, titled Sukkah in the City, for the upcoming Jewish holiday.
This Sukkah will be located in the Ritz Plaza Firefighter's Memorial Park at 235 West 48th Street, between 8th Avenue and Broadway and adjacent to its luxury rental apartment building, The Ritz Plaza. It will be open to the public daily from 10:00AM to 8:00PM. During these hours, members of the community are welcome to bring their meals and eat in the Sukkah. In addition, Chabad Lubavitch of Midtown will have volunteers on site to welcome and inform the public about the meaning of the Sukkah and the Estrog and Lulav connection.
The unique façade of Stonehenge's Sukkah, which features giant sized sunflowers, lady bugs, and blue sky, takes its inspiration from the Sukkah City erected last year in Union Square. Stonehenge also recognizes that the changing season is an opportunity to reconnect with our agricultural past, to reflect on a time of impermanence, and to celebrate Manhattan, and specifically Times Square, as a crossroad of culture.
"In the tradition of the Bryant Park Sukkah and synagogues throughout the city, Stonehenge is honored to open the first annual Sukkah in the heart of it all, Times Square," states Stonehenge Creative Director, Michael Stern. "The most important part of the Sukkot observation is warm hospitality, and Stonehenge is pleased to host New Yorkers under the branches of our Sukkah and our rooftops within the city's skyline."
About Stonehenge Partners
Founded in the early 1990's by Ofer Yardeni and Joel Seiden, Stonehenge Partners is a fully integrated real estate company based in New York. The firm which has 55 employees is primarily invested in Manhattan multifamily real estate. Stonehenge, together with its investment partners, currently owns and manages a real estate portfolio valued at nearly $1.8 billion. The portfolio is comprised of 19 properties representing approximately 3.2 million square feet, including 2,560 residential apartment units, office, retail and garage space. For more information about Stonehenge Partners please visit http://www.stonehengenyc.com.
###