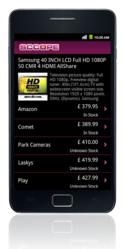 "the app is brilliant...it helps people save money" Paul Hood
(PRWEB UK) 10 October 2011
Cogenta's technology platform aggregates pricing & product information feeds from all of the major high-street & online retailers. This information is then delivered as a real-time price comparison service via an easy-to-use mobile application. The app provides immediate access to more than 2.5m products from names including John Lewis, Argos and Comet as well as the major online retailers.
Shoppers can use this app to make price comparison checks in just before the point of purchase. Cogenta claim that this service is unique in giving shoppers a truly accurate price comparison tool that they can use when they're out and about to check prices before making a purchase.
Adrian Hobbs, CEO of Cogenta said 'We're delighted to have Paul to advise and help us through this exciting expansion phase. We know the proposition is strong – even without any marketing, we've had more than 250,000 downloads of the mobile shopping app and the customer reviews are increasingly positive. Now we're ready to partner with 3 or 4 large-scale media owners, giving them a platform that will allow them to build and own a database of transacting customers. Paul brings a wealth of experience of the media landscape and a great track record of delivering successful commercial partnerships, so we're thrilled to have him help us with this.'
Paul Hood added, "I'm excited about the potential for Cogenta's mobile shopping platform. Functionally, the app is brilliant, it's got an elegant interface and is simple to use. And because it helps people save money, it's got the potential for universal appeal. I see the platform as a fantastic way for traditional media owners to create a branded, high-value eCRM business of customers whose shopping behavior they can track in real time. We'll be in a position to announce our first major partnership very soon'.
Notes
Cogenta maintain a unique view of the UK market by ensuring that the top high street [multi-channel] retailers and online are covered in depth making sure the experience is relevant for people wherever they are shopping.
Cogenta's shopping app 'Sccope' won the 'Editors Choice Award' at the popular CrackBerry Awards 2010.
###