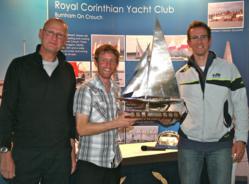 Calltracks are proud to measure results of the 2011 Endeavour Trophy to find the champion of champions from the 25 competitors who are from popular well known classes of boat at this invitation only event.
Burnham-on-Crouch (PRWEB UK) 10 October 2011
Calltracks made their way to the coast last weekend as they give their support to the Endeavour Trophy.
The call tracking specialists http://www.calltracks.com sponsored both the pre-training and the regattas results which got underway on Friday the 7th of October 2011
Calltracks are proud to announce, victory goes to Nick Craig and Toby Lewis representing the OK class have won the Endeavour Trophy after an extremely close fought, two-day championship on the River Crouch.
Craig, who has now won the event a total of five times, and Lewis who's won it three times, didn't have it all their own way however, and racing went down to the wire in the last of the eight-race series. Their biggest threat in today's final three races was the young, talented RS200 national champions – James Peters and Alan Roberts – who were leading the championship at the start of play today.
With two impressive race wins for Craig, two second places for Peters in today's first two races, and just two points between them, the scene was set for a spectacular showdown, and what a showdown it was.
Craig and Lewis did what came naturally in their vulnerable position by switching into match racing mode to ensure they were in control of Peters and Roberts' destiny. They did a particularly good job initially, which put them both at the tail end of the fleet but the canny youngsters were fully focussed which meant they were ready to pounce when Team Craig slipped up during a tack during the closing stages of the second beat. A coming together resulted in Craig and Lewis having to carry out penalty turns, which meant Peters and Roberts were able to slip ahead and maintain their controlling position to the finish. Unfortunately for them, however, it was too late to make any effect on the results, which meant Craig and Lewis had done enough to secure the championship.
An elated Craig talked impressively about his young opponents, and explained why they decided to use match racing tactics in the last race: "James is a great lad, great sailor, and I am sure he'll be back for more in the future. Today the two of them were extremely impressive. To be honest we were torn as to know what to do. We'd like to have just sailed the race but we decided that it was a bit risky not to match race because anything could have happened out there. It was shifty, and tidal, and if we mucked up and got behind, it would have been very difficult to get back in contention again."
Twenty-year-old Peters, who is in the RYA Olympic Development Squad and campaigning a 49er for a possible place at the 2016 Olympic Games, is one of the most impressive rookie Endeavour sailors the event has seen for many years. As well as a natural sailing talent, he demonstrated a professional side to his character which will undoubtedly see him progress well along his sailing career route. Chatting after the racing this afternoon, Peters commented: "We really enjoyed the event and it was a fantastic learning experience for us. Obviously Nick [Craig] won in the end but we felt we had to take all we could learn from the experience. Craig is a fantastic sailor. Although it is always tough to be match raced, it is important to understand that match racing in the situation we found ourselves in today is part of the sport of sailing. It is well within the rules and to execute it as Craig did, is a skill in itself, and he did a really good job making sure we weren't able to win. I have to say though, beating him across the line did make it a bit better for us, and finishing second at the Endeavour championship is amazing."
Racing once again took place at the mouth of the River Roach a couple of miles down stream from the host club, Royal Corinthian Yacht Club, and race officer, Kim Allen, and team did a first class job in setting some good, square, windward/leeward courses in the shifty, 10-14kts gusty, tidal conditions.
The competition on the racecourse was exceptionally high this weekend and it was noticeable how many young, new generation sailors are making their mark. In third place overall, after a tough battle was Scorpion representatives, Tom Jeffcoate and Mark Hogan who finished second in the final race which lifted them to third place overall.
Mention must also be made of the youth fleets including RS Feva representatives Owen Bowerman and Charlie Darling who, despite their extremely light, all-up weight, sailed impressively in every race and finished the event in a creditable 22nd overall.
Calltracks join fellow sponsors Topper, Allen Brothers, Calltracks, Hyde Sails, Selden, English Braids, Petticrows, Musto, Noble Marine.
Overall Results (after 8 races, and 1 discard)
1st OK – Nick Craig and Toby Lewis 15pts
2nd RS200 – James Peters and Alan Roberts 18pts
3rd Scorpion – Tom Jeffcoate and Mark Hogan 31pts
4th Osprey – Matt Burge and Richard Wagstaff 35pts
5th GP14 Stuart Bithell and Matt Johnson 40pts
6th Enterprise – Christian Birrell and Sam Brearey 40pts
For full results visit: http://www.royalcorinthian.co.uk/endeavour-championship
ENDS
Editors Notes
Calltracks are pioneers in the field of call tracking and analytics, with over six years' experience across a broad range of industries.
They provide data on actual sales productivity, conversion rates, revenue and return on investment, as well as cost per call and call volumes - analysed by media sector, by campaign or by individual advert, and updated weekly, daily or hourly.
Clients include Lookers, Renault Retail Group, GETMEIN and Reebok Sports Club.
For more details visit: http://www.calltracks.com
Brief history of the Endeavour Trophy
The Endeavour Trophy is a solid silver scale model of the 'J' Class yacht Endeavour presented annually to the Champion of Champions at the Royal Corinthian Yacht Club, Burnham-on-Crouch.
The origin of the trophy stems from Tommy Sopwith's 'J' Class yacht Endeavour, America's Cup Challenge in 1934. Following a pay dispute and dismissal of his East coast-based professional crew, Sopwith enlisted the help of 'Tiny' Mitchell, the Commodore of the Royal Corinthian Yacht Club at the time, to recruit amateur members of the club to form a crew.
Although Endeavour won the first two races against Rainbow and lost the series, this was the closest England ever came to winning the coveted America's Cup.
Years later, Robin Judah – respected member of the RCYC – was anxious to establish a series of races for dinghy sailors in order to discover the 'Champion of Champions'. Beecher Moore, former Endeavour crew, and marketing man behind the successful dinghy designer Jack Holt, joined Judah in his quest to run this event and presented for the overall winner, his solid silver scale model of the yacht.
The first invitation-only race took place in 1961 and the winner was Peter Bateman, representing the International Cadet Class, crewed by Keith Musto. The original idea was to use the club's own fleet of 15 Royal Corinthian One-Designs but they were considered too specialist and would have placed a perpetual limit on the number of entries. Since then the event has been sailed numerous classes including the GP 14s, Laser 2s, Larks, Enterprises, RS400s and now the Topper Xenon.
For details visit: http://www.royalcorinthian.co.uk/endeavour-championship
For further information please contact: Edwin Buckley on +44 (0)7768 003 453 or Sue Pelling on +44 (0)7866 571 932 or e-mail: sue9at)suepelling-journalist(dot)com.
Photo Credit: Sue Pelling
Photo4: Endeavour Trophy winners Nick Craig (right) and Toby Lewis, with Robert Coyle (Vice Commodore Royal Corinthian Yacht Club) left
--
Sue Pelling
Third floor, 117 High Street
Burnham-on-Crouch
Essex
CM0 8AH
sue(at)suepelling-journalist(dot)com
Telephone: +44 (0)1621 782837
Mobile: +44(0)7866 571932
Skype name: sue.pelling
###