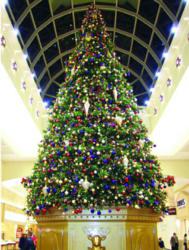 Quantities for 2011 decorating represent a three-fold increase over last year's numbers
Buffalo, NY (PRWEB) October 07, 2011
Christmas Central, one of the nation's chief online retailers of holiday merchandise, announces the arrival of extensive shipments of popular shatterproof ornaments, garlands and wreaths. Quantities for 2011 decorating represent a three-fold increase over last year's numbers. Along with the traditional ball shape, this season's ornaments include finials, snowflakes, onions, and icicles. Christmas Central also list 14-foot shatterproof ornament garlands, and ornament-laden wreaths in four sizes and a variety of color combinations.
In anticipation of strong Holiday sales, Christmas Central added 100,000 square feet of storage space to accommodate greatly increased inventory levels of sought-after products such as the shatterproof ornaments, trees, lights, wreaths and garlands. With extra warehouse area, the company supplemented its traditional shatterproof favorites with distinctive commercial ornament choices. Examples of these unique offerings include 43-inch three-dimensional snowflakes, 24-inch grape cluster ornaments, and 76-inch snowflake finial decorations.
"It's not unusual for a decorator to call us requesting thousands of ornaments, ranging from 1-inch balls to 55-inch commercial finials," said Christmas Central CIO Nathan Gordon. "We want customers to feel confident that Christmas Central can supply their specific decorating needs."
Shatterproof trimmings, which combine the beautiful look of glass with the practicality of resilient plastic, are available in several finishes, including shiny, matte, glittered, and glitter stripe. Colors range from time-honored silver and gold to the more unusual hues of copper and black. Christmas Central's commercial grade ornaments, treated to resist damage from ultraviolet light and to withstand weather exposure, make excellent options for outdoor displays. The sturdy construction of shatterproof decorations also contributes to their easy storage and safer use in environments where children and pets reside.
About ChristmasCentral.com
ChristmasCentral.com is a division of Gordon Companies, Inc., a family owned and operated business founded in 1977. As one of the largest online retailers of Christmas merchandise and home décor, ChristmasCentral.com offers over 30,000 products, serving the decorating needs of individual shoppers, professional decorators, small and large businesses, and television studios. Its colorful Christmas trees have been featured on NBC's "The Today Show."
For more information, please visit http://www.ChristmasCentral.com or call 800-433-0038.
###