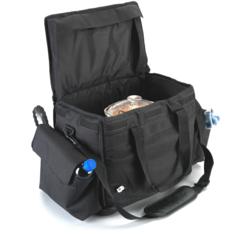 Tailgate Hotbags have become party game changers. Tailgaters are now taking piping hot dips, stews and casseroles to the parking lot turning gameday gatherings into tailgate gourmet feasts.
(PRWEB) October 10, 2011
Tailgaters will love the new Side Pocket Electric Tailgate Hotbag with new features and an attractive lower price. Tailgate Hotbags are electrically heated portable food warmers that allow tailgaters to take home cooked appetizers, casseroles and stews to the party and serve them oven-hot, even if the party is hours away. The new Side Pocket Tailgate Hotbag is made of easy to clean 600 Denier nylon with thermostatically controlled electric heating elements on the front and back walls for consistent, even heat. Simply plug the supplied 6' power cord into the vehicle's 12v outlet and the Electric Tailgate Hotbag heats to 160-165 degrees to keep food hot and safe from the time it leaves the oven until it's ready serve, even if the party is in the next state.
The new Side Pocket Electric Tailgate Hotbag has a rigid bottom, extra insulation and a press and seal top to keep the heat in. Inside it's 16"w x 9"d x 12"h, plenty of room for an entire meal and it only weighs 4½ lbs.
The bag has an adjustable shoulder strap for easy carrying, top handles and roomy 3x9x6.5 pockets on both ends for condiments, napkins, utensils or beverages. The supplied 6' power cord plugs into any 12v outlet or use the optional AC adapter (available at TailgateHotbag.com) that plugs into any wall outlet to heat the bag indefinitely for dinner parties, gatherings and pot lucks.
Electric Tailgate Hotbags also come in two other sizes. The Side-Loading Electric Tailgate Hotbag comes in a 17X18X5 standard size and a large 17X19X12 size for big parties. The standard size bag is perfect for flat dishes like wings and casseroles while the large size is best for foods that can be stacked, but need to be kept hot, like sandwiches and pizzas.
All Electric Tailgate Hotbags are made with the highest quality materials available and come with a limited warranty found on the web site. To learn more about Electric Tailgate Hotbags or to order, go to: http://www.TailgateHotbag.com
###