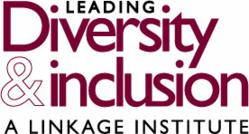 Burlington, MA (PRWEB) October 07, 2011
Linkage announces its new Institute for Leading Diversity & Inclusion. The Institute reflects significant re-tooling of the summit and represents the next phase of innovative learning and development for leaders inside of and outside of the diversity office.
Linkage's Institute for Leading Diversity & Inclusion delivers a well-researched, full immersion, transformative experience. Three components differentiate the Institute from a traditional conference: the learning experience is built on the Business Impact Diversity and Inclusion Competency Model (BIDI), the Institute participants complete a self-assessment, and the immersion experience allows participants to take part in peer-to-peer coaching and deep action-planning.
"The foundation of the Institute experience," stated Robin Pedrelli, Co-Director of the Institute, "is the Business Impact Diversity and Inclusion Competency Model. It's the only diversity-related competency model that links D & I competencies to business results in a way that has relevance to both diversity practitioners and line leaders and managers." The Institute provides an accelerated educational program that enables leaders to develop core competencies for effectively recognizing and leveraging diversity and inclusion as a key driver of business results.
The BIDI model is the result of extensive research, field observation and knowledge, and peer focus groups, emphasizes business impact instead of HR functions and programs. "Each competency incorporates the key skills needed to link diversity and inclusion to top and bottom line business results," says Susan Brady, Senior Vice President of Linkage's Global Programs. "And, the model is uniquely designed to equip leaders inside of and outside of the diversity office with the skills and competencies they need to drive results."
"In a busy world of competing priorities and minimal resources, finding a venue for Diversity & Inclusion practitioners to learn, interact and gain useful experience is becoming more and more of a challenge," says Nancy Di Dia, Chief Diversity Officer at Boehringer Ingelheim. "With Linkage moving from a conference format to one of an educational institute, we're confident our colleagues will build deeper insights on the important topic of diversity and inclusion and continue to further develop their specialized expertise."
The Institute, which will be held on April 30 – May 2, 2012 in Atlanta, combines the practical approaches and action plans with a spirit and energy that participants can use to create and execute integrated strategies that will positively impact employees, business results, and the organization's surrounding communities.
Linkage and the Institute's Partners are committed to delivering high-quality content and to addressing current diversity and inclusion issues in an ever-changing workforce. Platinum sponsors of this year's Institute include Abercrombie & Fitch, EMC, and McKesson.
Linkage works with leaders and leadership teams worldwide to build organizations that produce superior results. For more than 25 years they have delivered on this promise by strategically aligning leadership, talent, and culture within organizations globally. Linkage offers strategic consulting, leadership development and talent management programs, products and services, including: learning institutes, skill-building workshops, tailored assessment services, executive coaching and team building.
Linkage is headquartered in Burlington, Massachusetts with operations in Atlanta, Boston, New York, San Francisco and outside the U.S. in Athens, Bangalore, Brussels, Hamilton, Hong Kong, Istanbul, Johannesburg, Kuala Lumpur, Kuwait City, Mexico City, Rome, Seoul, Shanghai, Singapore, Sydney, Vilnius.
###