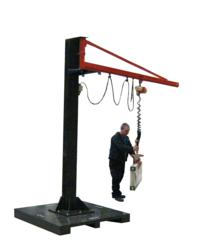 The vacuum lifting equipment with swing jib arm is the ideal solution to increase efficiency and improve health and safety conditions.
(PRWEB) October 10, 2011
New to Packline Materials Handling is the very popular and versatile vacuum lifter with swing jib arm. This entry level vacuum lifting equipment from Packline is available at a very competitive price whilst still maintaining high standards of build quality.
This vacuum lifting equipment is supplied, as standard, floor-mounted, or with an optional moveable counterweight that enables the vacuum lifter to be transported by use of a pallet truck.
A full range of jib crane lifting arms is available for the vacuum lifting equipment at different lengths, heights and capacities.
The complete vacuum lifter with swing jib crane is supplied with:

Column
Jib rotating on ball bearings
Electric hoist
Adjustable ribbon brake
Electrical system with flat cable and plastic cable support
The vacuum lifter's swing arm rotates round 270 degrees. This vacuum lifting equipment has a lifting capacity of 250 – 1000kg, with a reach of 2000 – 6000mm, and work area of 270 degrees.
Packline Materials Handling distributes vacuum lifting equipment across the UK, in conjunction with their existing range of stainless and non-stainless steel lifting and handling equipment.

A wide range of suction heads is available to suit a wide range of applications.
An electrically driven vacuum pump provides both lifting and suction functions.
Finger tip control - vacuum heads have a 'fingertip' control bar so the operator uses minimum effort to move heavy loads.
Safety interlocks - in the event of a power failure the load is gently lowered to the ground before the suction head will release.
Stainless steel vacuum lifters can be specified for use in the pharmaceutical and food industries.
With minimal dust traps the vacuum lifting unit is very easy to clean.
With a remotely installed power pack the vacuum lifters can also be installed in hazardous areas.
Bespoke units can also be developed to suit the needs of the customer.
Packline Materials Handling has been designing and manufacturing lifting and handling equipment since 1993. The 'Compac' range of stainless steel materials handling equipment has established Packline as a leading supplier of quality materials handling equipment for the food, drinks, dairy, pharmaceutical and medical processing industries.
The 'Compac' range of roll and drum handling equipment, coupled with the comprehensive range of interchangeable attachments, provides handling solutions for most applications found in today's production environments.
Packline are also suppliers of mild steel and stainless steel heavy duty lifting equipment for handling drums and rolls of material. The range of lifters is available with bespoke lifting attachments suitable for heavy duty roll and drum handling, to suit both warehouse and industrial needs.
For further information on vacuum lifting equipment with the swing jib crane arm, or the full range of lifting and handling equipment, please contact Packline Materials Handling on +44 (0)1202 307700 or visit http://www.packline.co.uk.
Packline Ltd
Unit 28
Newtown Business Park
Ringwood Road
Poole
Dorset
BH12 3LL, UK
###