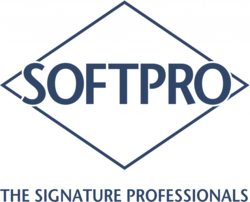 With over 25 years of international sales experience – nine in the e-signature industry – Mr. Bray will be a terrific resource for organizations looking to implement efficient approval processes and fraud prevention measures
Westlake Village, CA (PRWEB) October 06, 2011
Softpro NA announces the appointment of Trevor Bray, VP of Business Development and Marketing for the company's electronic signature and fraud prevention software solutions. Current clients and prospects will have the opportunity to meet Mr. Bray during BAI Retail Delivery being held in Chicago, IL, from October 11-13, 2011. Booth #1728.
"With over 25 years of international sales experience – nine in the e-signature industry – Mr. Bray will be a terrific resource for organizations looking to implement efficient approval processes and fraud prevention measures," says Rodney G. Vesling, President and General Manager for Softpro NA.
At BAI, Softpro will demo its SignDoc Family of products for web-based,mobile, and desktop e-signing. SignDoc can be implemented as a stand-alone solution or seamlessly integrated in a bank's core business application. The company's FraudOne Family for real-time and day-two cheque fraud detection will also be on display at the show.
"Softpro's offering is especially interesting for banks," explains Trevor Bray, VP of Business Development and Marketing for Softpro NA. "Being able to capture a client's e-signature during the account opening process, and use that electronic signature to detect fraud at a later date, offers a significant advantage – the bank only has one signature management system for both e-signing and verification purposes. Softpro's unique offering compelled me to join the company."
About the Softpro Group
The Softpro Group is a world leader in developing and marketing products and solutions for the digital capture, management and verification of signatures. Softpro's fastest growing line of business is E-Signing solutions. Softpro produces E-Signing software that ranges from Software Developer Kits to a complete platform for desktop or web-based signing. The products are compatible with a wide range of devices for signature capture - including basic pen pads, Tablet PCs as well as Apple iPad and slate computers. E-Signing solutions have proven to generate increased sales revenue, accelerate business processes, lower daily costs, eliminate errors, and protect documents against manipulation. E-Signing with Softpro is environmentally friendly and thus supports Green initiatives and corporate social responsibility programs.
Blog: http://www.trustedsignature.com Corporate Site: http://www.softpro.de/en.
###