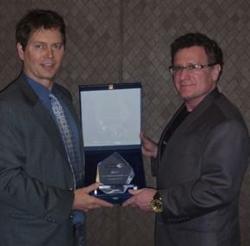 We are seeing physicians hungry for knowledge and education (techniques, products and new treatment protocols) ... [making] many current procedures and the need for complicated expensive equipment less necessary."
Bangkok, Thailand (PRWEB) October 07, 2011
Dr. Robert Goldman, Chairman of the World Anti-Aging Academy of Medicine (WAAAM) has awarded Bali-based developer and resort operator Hanno Soth, Chairman of Pt. Hanno Group and C151 Resorts, the anti-aging industry's top innovation prize – the WAAAM Innovation Award – for developing and introducing state-of-the-art anti-aging clinic designs combined with cutting edge therapies, that can be fitted into resorts worldwide. Giving holiday makers access to advanced anti-aging treatments, resort operators will gain a new revenue stream and increased demand for rooms while doctors gain better access to patients and opportunity to work in attractive healthy environments.
For the past decade, the medical industry has been seeing a paradigm shift from traditional medicine, which treats sick people to preventative and regenerative medicine. Disease based to a health based model. Unfortunately, there is still a disconnect and resistance between hospitals and doctors treating disease and those practicing preventative, anti-aging and regenerative medicine. Old school vs. New School. Many hospitals and their administrators have been reluctant to allocate space, commit funds and human resources to regenerative and preventative medicine for fear of alienating big pharma, doctors practicing traditional medicine and potential loss of revenue, a byproduct of healthy people and patients.
However, with so many exciting advances in the field of preventative and anti-aging & regenerative medicine and the huge swell in demand by baby boomers to look and feel younger and their willingness to pay out of pocket for access to these treatments (estimated annually at US $ 180 Billion annually), there is this rapid paradigm shift; we could not possibly build facilities fast enough once the trend goes mainstream. Ergo the merging of the resort and hotel industry that has been experiencing diminishing occupancy over the past several years. The introduction of non-invasive, bloodless low impact medical treatments allows doctors to treat patients without the need for constructing expensive facilities. Luxury hotels and resorts will become the treatment centers for preventative medicine and rejuvenation using breakthrough treatments for redefining the Spa and health Resort concept for the 21st Century.
Dr. Goldman notes that: "We are seeing physicians hungry for knowledge and education about (techniques, products and new treatment protocols) and they are coming to our medical educational conferences and our doctors being trained in these advanced modalities, which I believe will make many current procedures and the need for complicated expensive equipment less necessary.' Many of our top plastic surgeons and dermatologists are already predicting that in just a few years they will rarely use a scalpel or an operating theatre to give a face lift or rejuvenation treatment, asking themselves, how it is possible that we used to tighten faces by dissecting our facial skin from the muscle and sewing it tight. Instead the use of growth factors, cellular preparations, and special applicators to coax our own stem cells into repairing our bodies, will be the common practice. It is the same as the invasive surgical procedures now replaced by mildly invasive outpatient surgical techniques. This has led to the global growth of our fellowship specialty training programs in anti-aging, functional and regenerative medicine, in integrative cancer therapies, aesthetic and cosmetic medicine, sports medicine and rehabilitation, skin cancer therapies and other programs, that now are tied to post-doctoral Masters Degree programs at American medical universities and other medical schools globally.
One of the biggest challenges medical professionals are getting patients to come in consistently for evaluation, education, follow up, treatment and prevention of age related illness. It is a lot easier when people are checked into a nice resort, relaxed, comfortable and surrounded by friends and family and open to behavior modification, of health, diet, nutrition and antiaging treatments that make them look and feel younger.
For many reasons it has always been a stretch for doctors to admit patients to
hospitals simple for testing and preventative treatments. Firstly, beds are limited, infirmed and ill patients are prioritized, and people just are not happy to stay in uncomfortable hospital beds, sharing rooms and eating hospital food. This in contrast to the resort concept. People want to go there and the merging of the industries is simply a way to upsell guests providing them a service which they desire and gives them a reason to extend their stays and be happy to pay for it.
Industry analysts estimate that luxury resort operators capitalizing on the $180 Billion Ant-Aging Industry can expect increases their revenues generated from hotel operations by as much as 200% in the first year with minimal investment and down time, by simply by retrofitting spas with clinics and complimenting hospitality staff with certified medical practitioners. C151 Resorts with its award winning luxury villa resorts in Asia, in cooperation with ONELIFE+ will be showcasing a model for age offsetting treatments protocols starting in 2012
###