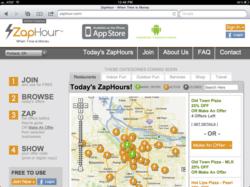 Portland, Oregon (PRWEB) October 06, 2011
ZapHour, a Portland, Oregon daily deals website, launches its patent-pending "Make an Offer" feature. ZapHour's "Make an Offer" will allow consumers to make competitive today-only offers to merchants using the ZapHour.com website or free iPhone and Android apps. The newly released technology allows merchants to be notified through a text message and given twenty minutes to text back approval of the consumer's offer.
"We are excited to be launching the "Make an Offer" feature to ZapHour's offerings in the daily deals space, this new capability will give consumers a voice that will let merchants know what it will take to win their business today." said Adam Milne, ZapHour's Founder and restaurant owner. "Most importantly, it will increase revenue for merchants and make shopping for deals a lot more fun and interactive for the consumer."
ZapHour merchants have always enjoyed the ability to simply create an offer schedule that includes day, time of day, quantity of available offers and any other benefits or limitations to the consumer; the new "Make an Offer" functionality allows a merchant to survey their establishment in real-time to determine if they have an immediate need to fill seats, if they do, they simply enable "Make an Offer" on ZapHour to entice a prospective consumer. The result, the consumer plays a role in the deal they want and the merchant fills an empty seat.
While ZapHour's competitors charge as much as 50% of the revenue for promoting offers, ZapHour is making its entire suite of merchant do-it-yourself services available at no cost for a limited time. After that time, the company will charge a monthly fee of fifty dollars for unlimited offers. According to Milne, "The economics of giving a large chunk of your revenue to a third party along with an already generous discount is not a sustainable business model for merchants. We have created a tool that is truly beneficial for both merchants and consumers."
Additional enhancements include an API that allows developers and merchants the flexibility to interact with ZapHour via the API. The "Make an Offer" product will soon be launching counter-offer and automated counter-offer capabilities.
ZapHour launched in 2010, after filing for a patent for offers that are based on time and location. ZapHour saw and filled the need for a fairly priced daily deal model for this market space. The ZapHour vision is to create and promote a utility that allows merchants to initiate offers when restaurants have extra room, creating a better and more prosperous way to discount services.
About ZapHour:
ZapHour is headquartered in Portland, Oregon where it has more than 70 merchants signed up for the service and will soon be taking its business to a national audience. For more information please visit http://www.ZapHour.com.
###