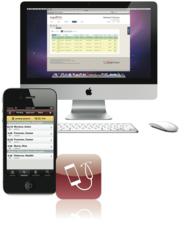 maxRVU is a joy to use. The user interface is elegant. I like the simple functionality of the app and it does charge capture well. I can take a quick look at my billing while at lunch and also make sure that my biller is doing his job efficiently.
(PRWEB) October 11, 2011
gingerCube Inc. introduces maxRVU - a premier charge capture solution that provides physicians an easy way to capture billing data on their mobile devices at the point of care and transmitting it wirelessly to their billing agent for quick and accurate processing.
Physicians are able to consolidate multiple devices into one by taking advantage of maxRVU's ability to record voice notes and take photos during sessions and upload it to the web wirelessly. No more time needs to be wasted getting media off of voice recorders or cameras. It's all done with the touch of a button and, best of all, wirelessly.
Users are also able to take advantage of maxRVU's easy ICD/CPT code lookup functionality for quick and easy coding on the go. With maxRVU you can expect to minimize tedious data entry, reduce paper clutter, recover lost billing wages, and reclaim lost time so you can spend more time taking care of your patients.
maxRVU sports a clean and easy web interface that is available for physicians, billing agents, and office assistants as well. This portal provides a central dashboard to view revenue generation, keep track of cases needing to be billed, and recent patient encounters.
A fully featured 30 day free trial is available. No Contracts, No Credit Card, No lengthy installation. Simply sign up, and start reclaiming the time and money that belongs to you.
maxRVU is available for the iPhone, iPad, iPod Touch, PC, Mac and is coming soon for Android.
Available at - maxRVU and on the Apple App Store!
###