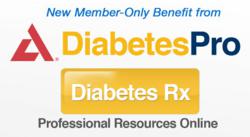 It's incredibly helpful to have a tool that simplifies that process," M. Sue Kirkman, MD, Senior Vice President of Clinical Affairs, American Diabetes Association
Hillsborough, NJ (PRWEB) October 31, 2011
Healthcare Resources Online is pleased to announce that they are the powering engine behind Diabetes Rx, the American Diabetes Association's new service for its members. Diabetes Rx, different from any other healthcare web service available today, is a novel and comprehensive resource delivery model. The service will meet the needs of enhanced patient care for both diabetes professionals and their patients.
Diabetes Rx works by connecting American Diabetes Association members to the diabetes resources they want, when and where they want it. It is designed to create an unbiased, no-cost community for diabetes healthcare providers; a solution to the challenge of efficiently aligning available diabetes resources with providers and their patients.
Diabetes Rx provides a single place for members to find a full array of available product resources, easy to search and easy to order, all at no cost. This "one stop shop" for resources will also provide members significant time savings that they would otherwise spend browsing and surfing the web for suitable resources for their patients. "I know from experience that it can be difficult to quickly find information on a particular medication, and it's incredibly helpful to have a tool that simplifies that process by putting information on all of the agents used to treat diabetes, lipids, and blood pressure together in one convenient spot," says M. Sue Kirkman, MD, Senior Vice President of Clinical Affairs, American Diabetes Association.
Resources include patient education materials, product coupons, samples & vouchers, product information and a variety of patient assistance programs for each product. Resources from the American Diabetes Association will also be readily available through Diabetes Rx. Members will also have the ability to participate in market research and easily find clinical trials suitable for their patients by searching the largest US clinical trial database with an easy-to-use search interface. Coming soon will be an e-prescribing platform.
Healthcare Resources Online has designed this platform to be used by professional associations, a naturally trusted, resource-based and educational environment, to promote better communication, information exchange and ultimately better utilization of resources with patients.
The American Diabetes Association was founded by 28 physicians in 1940 - not even 20 years after the discovery of insulin changed diabetes from a fatal diagnosis to a manageable disease. In 2009 the Association conducted research about diabetes awareness and understanding in the United States and found that most Americans were under-informed or misinformed about diabetes – despite the fact that the disease had grown to epidemic proportions. In response, the Association launched a national movement to Stop Diabetes® – with the audacious goal of gathering the support of 1 million Americans each year to help confront, fight and most importantly, stop diabetes.
# # #