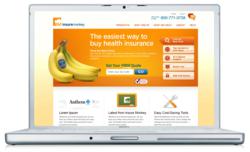 This is the best opportunity for parents in Arkansas to get their children great health insurance.
Las Vegas, NV (PRWEB) October 06, 2011
Arkansas children under the age of 19 are eligible for individual health insurance regardless of their health condition during the child-only open-enrollment period that runs through the end of October. Parents can get free quotes for their children, compare plan benefits and apply online through InsureMonkey.com or by calling (800) 771-3739.
Timing

The open enrollment period takes place from October 1 through October 31.
To be eligible, residents must complete and submit their application during the open enrollment period and the application must be received by the carrier.
Effective dates may be from the date of the application or the first day of the month following application submission, or a mutually agreed upon date between applicant and carrier.
All application methods are available including online, by telephone, or by paper application.
Eligibility During Open Enrollment
All children who are residents of Arkansas are eligible and coverage is guaranteed issue so they cannot be declined because of their health.
Policies cannot be issued with riders or amendments, however rating may be applied.
If a child currently has a policy with a rider, they can apply to any carrier to be issued coverage without a rider.
Coverage through Medicaid, CHIP, state or federal high-risk pools, or with a rider IS NOT A REASON to deny coverage.
Children applying for coverage during open enrollment is not eligible if they have other coverage or other coverage is available to them at the time of the effective date.
Despite these health plans being guaranteed issue, underwriting may still occur and may include an interview and supplemental forms. Any supplemental forms must be completed and signed by a parent/legal guardian and returned to the health insurance company. Failure to return any required forms will result in the policy not being issued.
All optional benefits including supplemental accident benefits, dental, vision, etc. will be available to the applicant during open enrollment.
More than one child under 18 may be listed on the same application. The youngest child should be listed as primary, with the other children as dependents. Applicants age 18 must complete their own health insurance application.
"This is a great opportunity for parents to get their children the individual health insurance coverage they deserve," said Alex Rivlin, CEO of InsureMonkey. "We're pleased to offer these plans throughout the open-enrollment period."
Mr. Rivlin advises that parents don't wait to shop for the coverage their children need because the open enrollment period ends at the end of October. "Many of our customers apply and receive coverage the next day," said Mr. Rivlin. "For others, it may take a few weeks to complete the process and receive coverage and that's why parents should take advantage of this opportunity now."
About InsureMonkey
InsureMonkey is the quickest and easiest way for individuals and families to buy health insurance. It provides a simple online tool that allows consumers to get free health insurance quotes from leading companies without providing invasive personal information. Customers are provided quotes, information and options that allow for educated and informed decisions when purchasing health insurance. Once a customer has selected the plan that's right for them, InsureMonkey enables the customer to apply for the plan online.
InsureMonkey fully automates the quoting, application and enrollment process of becoming insured. It is offered as a free public resource, charges no application fees, no broker fees, and its tools, support and services are free for life. To learn more about how to get the best rates, compare plans and buy personal health insurance online please visit http://www.insuremonkey.com or call 1-800-771-3739.
# # #