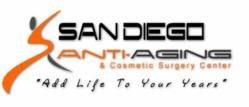 It is our mission to deliver the greatest results… at a great value!
San Diego, California (PRWEB) October 08, 2011
Dr. Charles Sarosy, an experienced and respected cosmetic surgeon based in San Diego, with the help of his team, created a series of educational 3D videos to go on their website, SDAnti-Aging.com. These videos provide a comprehensive visual aid that walks the user through each procedure, broken down into easy-to-understand sections.
The videos explain the procedures, provides the medical basis behind the procedures, and its done all through animated video. 3D imagery takes the viewer through how the procedures are performed, providing detailed information in a format that is easily understood.
The videos were added on October 1, 2011, and in just a short amount of time, the videos have successfully answered the questions about cosmetic surgery that many people have had for a long time. Since the videos are so thorough, they're useful to anyone, whether they've had cosmetic surgery, are planning on it, or have simply had many questions about it. They were specially created for their website to educate people about different procedures, and the reaction from viewers thus far has proven how informative the videos are.
The format provides four areas of interest: body, breast, face, and skin. Under each area is a list of services available that Dr. Sarosy provides and will equip the visitor with in-depth understanding of what each procedure entails. It also assists visitors in making decisions as to what treatment may provide the greatest benefit to them.
Dr. Sarosy offers an array of anti-aging procedures at the three medical spas and the state-of-the-art cosmetic surgery center he has owned and operated for sixteen years. Each center provides specialty care to enhance the lives and appearance of their guests, enriching their best features, thereby enhancing self-esteem.
The 3D cosmetic surgery educational videos will be an important tool to help guests feel comfortable when considering consultation because they will have the foundational knowledge of the procedures available, which will assist in making the best choice for their needs.
Dr. Sarosy and staff at San Diego Anti-Aging and Cosmetic Surgery are sincerely dedicated to providing exemplary care and claims, "It is our mission to deliver the greatest results… at a great value!"
# # #