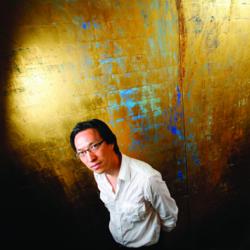 Fujimura, an artist, writer, and speaker, is recognized worldwide as a cultural influencer.
Azusa, CA (PRWEB) October 06, 2011
Azusa Pacific University welcomes world-renowned artist Makoto Fujimura for the only West Coast showing of his groundbreaking work, The Four Holy Gospels before it travels to Japan. His exhibit, part of the university's 400th anniversary celebration of the King James Bible, brings a modern take to the Scriptures in the form of abstract art. The Four Holy Gospels is on display October 24-November 21, 2011 in Duke Art Gallery located on APU's West Campus at 701 E. Foothill Blvd. in Azusa. Gallery hours are Monday-Friday, 11 a.m.-7 p.m. The exhibit is free and open to the public.
Fujimura is the guest of honor at a reception and presentation to the art community of Southern California on Thursday, November 10 at 6 p.m. in the Duke Lobby. The evening will feature entertainment by APU's Jazz and Vocal Ensembles. A Meet the Artist event takes place Friday, November 11 at 8 p.m. Everyone is welcome.
The Four Holy Gospels comprises a series of five paintings and 89 illuminated initials (one for each chapter of the Gospels). Fujimura developed a layering technique to achieve the depth of color in his work. He uses Japanese materials and pigments ground from precious minerals, as well as touches of gold. The Four Holy Gospels' New York showing in August 2011 was featured in The Wall Street Journal.
Fujimura, an artist, writer, and speaker, is recognized worldwide as a cultural influencer by both faith-based and secular media. A Presidential appointee to the National Council for the Arts, Fujimura contributes internationally as an advocate for the arts, speaking with decision-makers and advising governmental policies on the arts. Fujimura's work is exhibited at galleries around the world, including Dillon Gallery (New York), Sen Gallery (Tokyo), The Contemporary Museum of Tokyo, Tokyo International University of Fine Arts Museum, and Oxford House, Taiku Place (Hong Kong). He has painted live on stage at New York's legendary Carnegie Hall as part of an ongoing collaboration with composer and percussionist Susie Ibarra.
A popular speaker, Fujimura lectures at numerous conferences and universities including the Aspen Institute, Yale, Princeton, the Q Conference, and IAM's Encounter 10. Fujimura's second book, Refractions: A Journey of Faith, Art and Culture holds a collection of essays that invites people of all backgrounds into conversation and meditation on culture, art, and humanity. He founded the International Arts Movement in 1992, a nonprofit organization that facilitates discussions of faith, art, and culture.
To schedule a media interview with Fujimura, contact Rachel White, assistant director of public relations at Azusa Pacific University, (626) 815-4502
or send an email to rewhite(at)apu(dot)edu.
To view the YouTube video of The Four Holy Gospels go to http://www.youtube.com/watch?v=9eeGbVXM4fY.
To explore the numerous lectures, presentations, and exhibits available during APU's celebration of the 400th anniversary of the King James Bible, visit http://www.apu.edu/kingjamesbible/events/.
# # #