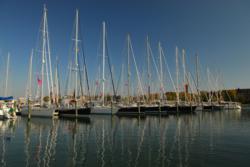 (PRWEB) October 06, 2011
On November 7, the largest and longest running sailboat cruising rally in North America, the Caribbean 1500, departs historic Fort Monroe in Hampton, Virginia at 12:00 noon (weather permitting) for the sunny shores of the British Virgin Islands and the Abacos in the Bahamas. Over 60 boats are expected to participate in the 22nd annual race.
Cruisers will begin arriving in Hampton on October 30, spending the week prepping their vessels for the long ocean voyage. Participants include rally veterans, experienced blue water cruisers, and first-timers. While in Hampton, sailors will attend social functions, including "dine-around" parties, safety equipment demonstrations, and lectures on cruising issues.
For three of the Caribbean 1500 boats, the rally is the start of a round-the-world adventure. They will use the Caribbean 1500 as their "warm-up" before joining World ARC in Saint Lucia in January 2012. The crews will then head to Panama, the Pacific Islands, Australia, Bali, Mauritius, South Africa, and Brazil before returning to Saint Lucia in April 2013. These captains and vessels include: Stephen Spracher on his Lagoon 380, Southern Cross; Gary Onik and crew sailing Fastwater 52, Ice Wars II (FL); and Mark and Janet Gorrell on Island Packet 465, At Last (MA).
22nd annual Caribbean 1500 (Notable Dates)
Sunday, October 30 Cruisers begin arriving in Hampton
Tuesday, October 1 Welcome Reception at Hampton Public Piers
Friday, October 4 Downtown Hampton Dine-Around
Saturday, November 5 Seminars at Crowne Plaza Dockside Ballroom
Monday, November 7 Rally Departs Fort Monroe in Hampton at 12:00 noon
22nd annual Caribbean 1500 (Interesting Facts)

There is no age limit to participate in the Caribbean 1500. Ralliers include adults and children, as well as babies.
Boats vary in size. The smallest boats include a Sabre 462, Island Packet 37, and a Valiant 37. A Bill Tripp-designed custom 78-footer and a Haylas 70 make up the largest boats in the fleet.
Not all racers will head to the British Virgin Islands. About eight boats have elected to join the Bahamas Class this year.
Friends, family, and interested parties ashore can follow the action on the Fleet Viewer, with data provided by a satellite tracker on each boat. This is available at http://www.carib1500.com. In addition, all yachts can submit blogs and photographs to the site.
As they finish in either Nanny Cay on Tortola or Green Turtle Cay in the Abacos, all crews will celebrate the achievement of sailing a five-to-ten day open ocean voyage with a fun prize-giving party.
For more information on the Caribbean 1500, dial 757/788-8872 or go to http://www.carib1500.com
The Caribbean 1500, founded by Steve Black in 1990, is now organized by World Cruising Club (WWC). World Cruising Club specializes in organizing rallies for yachts on a worldwide basis. Other races operated by WCC include ARC, ARC Europe, Rally Portugal, World ARC, The Malts Cruise, and the Atlantic Cup. The Caribbean 1500 is the largest and longest-running sailboat cruising rally in North America, attracting 60-80 boats each year.
Partially bordered by the Hampton Roads harbor and Chesapeake Bay, Hampton, with the 344,000 sq. ft. Hampton Roads Convention Center, is located in the center of the Hampton Roads metropolitan area. Hampton is the site of America's first continuous English-speaking settlement and is home to such visitor attractions as the Virginia Air & Space Center and Riverside IMAX ® Theater, Hampton History Museum, harbor tours and cruises, Hampton University Museum, Fort Monroe, award-winning Hampton Coliseum, The American Theatre, among others.
###