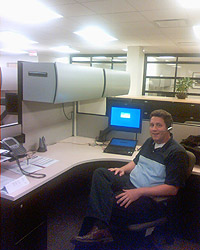 I look forward to showcasing Desktop Alert's inventiveness, quality and affordability, and continuing to assert our presence as an industry leader in the mass notification marketplace, Dan Ryan Desktop Alert CEO
(PRWEB) October 06, 2011
Desktop Alert Inc., a premier provider of network-centric emergency mass notification systems to the United States Government, United States Military and industry, today announced the appointment of Daniel Ryan, MBA, PMP, as the company's chief executive officer.
Mr. Ryan is an accomplished leader, with solid and progressive experience in government, financial, healthcare, and corporate industries. He has been overseeing all company projects and customer implementations for Desktop Alert since he joined the company. As a certified Project Management Professional (PMP), he has managed extensive customer technical implementations, and he's been a driving force in the expansion of the company as it has extended into new segments. Mr. Ryan is also a professor at Dowling College within the Management and Leadership department in the Townsend School of Business.
Howard Ryan, Desktop Alert's founder, says he appointed Daniel Ryan to this significant new role based on a number of factors, including his ability to recognize the skills within a team and lead them to achieve multiple milestones throughout the business, thereby increasing the satisfaction of both customer and employee alike.
"In many ways, Daniel Ryan had been fulfilling portions of the CEO role before the official appointment was decided upon," Howard Ryan said. "With Daniel Ryan at the helm, Desktop Alert is ready to continue its industry leadership within the aforementioned markets and rise to the next level."
Daniel Ryan says, "I'm honored to assume the leadership of such an important and worthwhile business that provides potentially life-saving technologies to our prime customer, the Department of Defense, as well as continuing to expand our growth into corporate, healthcare, education and other industries. I look forward to showcasing Desktop Alert's inventiveness, quality and affordability, and continuing to assert our presence as an industry leader in the mass notification marketplace."
About Desktop Alert Inc:
Desktop Alert has the capacity to integrate giant voice systems, siren systems, telephony systems, mobile devices and workstations at host locations nationwide and internationally. Desktop Alert consolidates multiple warning systems into one web-based user interface enabling command operators to initiate emergency alerts to any warning devices via a single web-based interface. Desktop Alert is Enterprise-class unified alerts management system that includes capability to:

Initiate emergency alerts to any warning device via single web-based interface
Integrate user data from disparate data sources such as LDAP/Active Directory, SIDPERS and MILPDS
Manage single repository of emergency scenarios
Manage permission-based access for operators (unlimited administrators/moderators)
Enable real-time tracking and reporting
Manage integration to multiple delivery devices
Manage real-time reports, communications, video surveillance and more
Manage DoD Approved XMPP Live Instant Messaging
###