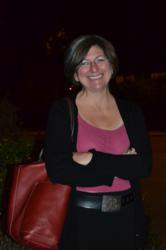 textured and eloquent poems moves through the wordly to the spiritual

Diane Wakoski
Norwich, UK (PRWEB) October 25, 2011
Cold Stone, White Lily, a new book of poems by Anne Markham Bailey MFA, MA, BA Barnard College, gives voice to Anne Wyngfield, a fictional 14th century English anchoress and contemporary of Julian of Norwich. The poems highlight the historical legacy of contemplative women and of women's lives as a landscape of divinity. The book is published by The Friends of Julian at the Julian Centre, Norwich, UK.
"These poems are a record of the spiritual journey, the life story of a woman infused within a context of divinity that informed her life path, which is powerfully relevant for a deep unfolding of our lives today." Anne Markham Bailey
Cold Stone, White Lily started as an unusual Masters Thesis project in the Creative Writing program at the University of Alabama at Birmingham (UAB) Department of English. Anne Bailey's research on the English mystics, particularly Julian of Norwich, led her to consider the role of the female anchorite (anchoress) in medieval England. In a world of relatively few life choices, the anchoress chose a life path with the space and solitude to pursue divine union. Bailey was transfixed. She created a 14th century anchoress, Anne Wyngfield and wrote poems from her point of view at 70, looking across her life, through the lens of sacred world.
When American poet Diane Wakoski accepted Anne Markham Bailey's invitation to join her MA Thesis Committee, it was a big moment for Bailey. "Wakoski is a giant in poetry writing. I have been reading her for decades, and I was enormously humbled that she agreed to read and give detailed commentary on my work."
Bailey received the Ireland Award at UAB for original scholarship and for travel. She went to the UK to research and to contemplate in anchor holds, sites where anchorites lived. She chose sites across the UK believed to be actual sites of medieval anchoresses. One of these sites is All Saints Church in Kings Lynn, the setting of the work. "The Ireland Award that supported my travel and research was a huge gift. The time I spent in Kings Lynn, soaking up details like watching the birds wheel over the Ouse River, just as my anchoress would have done, was so crucial to the work."
Kings Lynn is not far from Norwich, where the famous anchoress Julian of Norwich lived and practiced. Bailey went to the Julian Centre in Norwich and pored through the Julian Centre's rich holding of research materials. She also spent time simply sitting in the Julian shrine.
Inspired by Wakoski's concept of the personal mythology of the poet, Bailey created Anne Wyngfield as an integral link to her personal history. Wyngfield's story evoked a lineage of women as spiritual practitioners within familial relationships and formalized public religious roles. "When I graduated from Barnard College, I did not know what women were doing 700 years ago. Few women's voices are recorded. Anne Wyngfield emerged out of the silence as an ancestor."
The Friends of Julian in Norwich UK expressed interest in publishing Cold Stone, White Lily after they read the manuscript. They approached Bailey when she was in the UK in 2010, reading from the work at an arts festival in Kings Lynn. Cold Stone, White Lily was released in September 2011 with a publication launch and reading at the Julian Centre in Norwich, Norfolk UK.
###