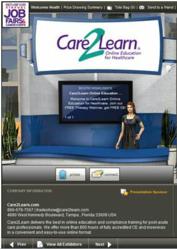 "This webinar comes at a critical time for therapy professionals … [it] breaks down everything they need to know to ensure optimal reimbursement." – Ryan Sparks, General Manager and VP of Enterprise Sales for Care2Learn
Tampa, FL (PRWEB) October 10, 2011
Care2Learn, the leader in physical therapy CE, will provide free access to a therapy services reimbursement webinar through the ADVANCE Education Fair for Healthcare Professionals on October 12, 2011. The virtual conference will take place from 12:00 noon to 9:00 PM (EST) and will feature information about physical therapy CE opportunities as well as live chat sessions, booth presentations and exclusive prize drawings.
The Care2Learn physical therapy CE webinar, Denial-Proof Documentation, will provide therapists with essential information and best practices for successfully avoiding delays and denials for therapy services in order to improve reimbursement and profit margin. The webinar begins at 1:00 PM (EST). Author and speaker Lisa Jenkins is a licensed physical therapist certified in Healthcare Compliance and the founder of Clinical Resource Services, LLC.
Care2Learn representatives will also be present at the virtual event to showcase what the online physical therapy CE provider has to offer—including more than 800 hours of fully accredited CE courses and over 130 online healthcare inservices written by top subject matter experts. Care2Learn's industry-leading healthcare Learning Management System incorporates the latest eLearning technology and features convenient 24/7 access, full reporting, and live client support available seven days a week.
"This webinar comes at a critical time for therapy professionals," says Ryan Sparks, General Manager and VP of Enterprise Sales for Care2Learn. "Reimbursement for therapy services relies so heavily on accurate patient evaluation and documentation—especially today, with an unstable healthcare system and possible funding cuts, therapists need to know how to avoid delays and denials. This webinar breaks down everything they need to know to ensure optimal reimbursement."
About Care2Learn
Founded in 2000, Care2Learn provides online continuing education solutions for the post-acute care industry. The Care2Learn course library includes more than 800 accredited course hours delivered to more than 320,000 healthcare professionals in all 50 states. Acquired by RedVector, the premier online CE provider for the design, engineering, and construction industries, Care2Learn continues to grow by offering customized online eLearning universities to companies wishing to offer training and education solutions to their entire staff in a cost-effective, easy-to-use, and readily accessible manner. For further information, call 1-866-703-9418 or visit http://www.Care2Learn.com.
###