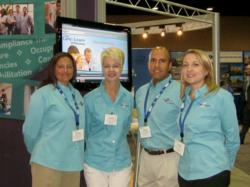 "Non-profit organizations like LeadingAge have become such a positive force behind advocating exceptional care for our nation's seniors, and Care2Learn is proud to be a part of that." - Kelly Conlon, Marketing Communications Manager for Care2Learn
Tampa, FL (PRWEB) October 11, 2011
Care2Learn, the leader in online healthcare CE for the post-acute care industry, will showcase its premier CE content and healthcare compliance training curriculum October 16–19 at the 2011 LeadingAge Annual Meeting & IAHSA Global Aging Conference at the Washington Convention Center. The popular event brings together thousands of business leaders to present products and services as well as address some of the most challenging issues facing senior care providers today.
Care2Learn will be located at Booth 2509, where visitors can preview what the eLearning provider has to offer—including more than 800 hours of fully accredited online healthcare CE courses and over 130 inservices. Care2Learn's industry-leading healthcare Learning Management System incorporates the latest eLearning technology and features convenient 24/7 access, full reporting, and live client support available seven days a week.
"Non-profit organizations like LeadingAge have become such a positive force behind advocating exceptional care for our nation's seniors," says Kelly Conlon, Marketing Communications Manager for Care2Learn. "And Care2Learn is proud to be a part of that. Our goal has always been to help promote a culture of caring through the power of education. We are committed to providing the best, most current online healthcare CE in the industry to improve the quality of care for those who need it most."
Industry professionals who visit Care2Learn at the LeadingAge Annual Meeting will receive a free course: Managing Power and Influence, authored by Saint Joseph's College Professor of Long-term Care Administration John Pratt. The informative 1-hour course was designed to examine the nature of power and influence and explain how leaders and managers can use power and influence effectively in the healthcare setting.
About LeadingAge
Formerly the American Association of Homes and Services for the Aging (AAHSA), LeadingAge is an association of 5,600 not-for-profit organizations dedicated to expanding the world of possibilities for aging by advancing policies, promoting practices, and conducting research that supports, enables and empowers people to live fully as they age.
About Care2Learn
Founded in 2000, Care2Learn provides online continuing education solutions for the post-acute care industry. The Care2Learn course library includes more than 800 hours of accredited content written by top subject matter experts and delivered to more than 320,000 healthcare professionals in all 50 states. Acquired by RedVector, the premier online CE provider for the design, engineering, and construction industries, Care2Learn continues to grow by offering customized online eLearning universities to companies wishing to offer training and education solutions to their entire staff in a cost-effective, easy-to-use, and readily accessible manner. For further information, call 1-866-703-9418 or visit http://www.Care2Learn.com.
###