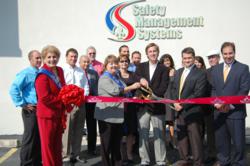 Safety Management Systems is a purpose-driven company committed to protecting lives and changing cultures
San Antonio, Texas (PRWEB) October 06, 2011
Safety Management Systems' expansion into Bexar County, Texas, was marked with a ribbon-cutting and grand-opening ceremony Oct. 5. The new regional office is at 11127 Osgood St. in San Antonio.
"Safety Management Systems is a purpose-driven company committed to protecting lives and changing cultures," SMS President Scott Domingue said during the event. "This training facility is testimony of SMS's commitment to providing excellent services to the oil and gas industry."
The company expects to train about 10,000 workers a year at its San Antonio facility, which also serves as the main office for Acadian Ambulance Service's Bexar County operations. Both SMS and Acadian Ambulance are divisions of the Acadian Companies.
The Greater San Antonio Chamber of Commerce presented a proclamation and membership plaque to Safety Management Systems followed by the official ribbon-cutting. Joe Moseley, SMS regional manager, and Troy Mayer, vice president of operations for Acadian Ambulance Service, also spoke at the event.
Safety Management Systems, which has served the oilfield for 30 years, is one of the nation's largest providers of health, safety, environmental, medical and training services. Training more than 30,000 workers annually, SMS also deploys safety technicians, remote paramedics, industrial trainers and professional consultants. The occupational health and wellness division offers companies health and wellness testing tailored for their needs.
Acadian Ambulance Service is the 911 provider for the unincorporated areas of Bexar County and for 10 cities within the county. It also operates in Hays, Travis, Williamson, Bell and Falls counties in Central Texas and in seven counties in Southeast Texas.
# # #