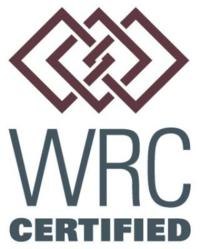 (PRWEB) October 07, 2011
Risk Control Services (RCS) is pleased to announce Staff Management | SMX's completion of the comprehensive Best Practice Verification Process required for Workers' Compensation Risk Certification; earning the prestigious WRC designation. RCS and the American Staffing Association (ASA) established the ISO-9000 type designation to provide an industry standard of operational excellence in the area of safety and risk management. RCS Chief Executive Officer Bill Nagel is "pleased to further validate Staff Management | SMX as an industry leader, specifically in the arena of employee safety."
WRC provides third-party credentialing of best-in-class staffing industry practices and is awarded to firms which operate above the safety and risk management standards established by industry leadership. To earn the WRC designation, companies undergo a rigorous assessment of their operational practices. The results are compared against a system of best practices developed by an advisory council of insurance carriers, insurance brokers, staffing industry risk managers and American Staffing Association (ASA) executives. Richard Wahlquist, President of ASA, says of the WRC designation, "it sets apart those staffing companies who lead our industry."
"Staff Management | SMX has exceptional resources in the area of safety and risk management," said Bill Nagel, CEO of RCS. "They are above par as compared with like profiled staffing firms and meet the WRC best-in-class standards at both their Staffing Center of Excellence and their Vendor on Premise locations. Staff Management | SMX has a superior competency in the areas of screening and hiring, personnel record keeping, client safety program integration and staff member education and training. They pursue their mission of elevating productivity and delivering excellence at their client sites with risk management and safety at top of mind."
"We are committed to upholding the highest standards for safety and risk management and reducing workplace injuries to protect our associates while offering the highest level of service to clients," says Joan Davison, President and Chief Operating Officer of Staff Management | SMX. "The WRC designation provides us with third party validation that we are following best-in-class operating procedures, aligns well with our company's culture of standard setting and gives us the tools necessary to continue to raise the bar on safety and risk management. We partner with clients who advocate high standards; we strive to uphold the same safety and risk management principles and place the most qualified associates at their worksites. The WRC program gives us another tangible opportunity to promote effective safety partnerships between our company and our clients,"
continued Davison.
About Risk Control Services (RCS)
RCS is a Staffing Industry specific Risk Management consulting firm founded in 1990 with over 1000 client companies in 4000+ locations across the continental U.S. RCS acts as the Risk Management provider for multiple A+ rated insurance companies writing insurance in the staffing space, in addition to partnering with The American Staffing Association (ASA) on the WRC Certification initiative.
About Staff Management | SMX
Founded in 1988, Staff Management | SMX is the pioneer of high-volume Vendor on Premise (VOP) staffing solutions and is ranked the #1 Managed Service Provider (MSP) worldwide by staffing buyers on HRO Today's Baker's Dozen for MSP providers. Staff Management solutions provide best talent, drive compliance, yield tangible savings and build sustainable value. A Staffing Industry Analysts' Top Ranked Staffing Provider, Staff Management is ranked one of America's Top Job Creators on Inc. Magazine's Inc. 5000. In 2006, Staff Management earned charter membership in the U.S. Immigration and Customs Enforcement IMAGE Program and in 2011 achieved Workers' Compensation Risk Certification. Visit http://www.staffmanagement.com or call 1.800.746.9462 or more information.
For More Information:
Risk Control Services
Attn: Katy Hooper
khooper(at)riskcontrolservices(dot)com
800.807.7475
http://www.staffingwrcs.com
http://www.riskcontrolservices.com
This press release was distributed through PR Web by Human Resources Marketer (HR Marketer: http://www.HRmarketer.com) on behalf of the company listed above.
###