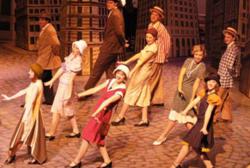 Newberg, OR (PRWEB) October 07, 2011
George Fox University will bring a story of resilience, camaraderie, humor and friendship to the stage with fall performances of "Steel Magnolias," scheduled in Wood-Mar Auditorium on the university's Newberg Ore., campus in late October and early November.
Performances are scheduled daily Thursday through Saturday, Oct. 27-30, and Thursday through Sunday, Nov. 3-6. All shows begin at 7:30 p.m. with the exception of the Sunday, Nov. 6 matinee, scheduled for a 2 p.m. start. Tickets – $12 for general admission, $8 for seniors and George Fox alumni, and $6 for students and children under 12 – can be purchased online at theatre.georgefox.edu.
The plot unfolds in Chinquapin, La., in 1988. In the midst of wedding plans, divorces, births, funerals, new beginnings and profound endings, six women find a haven in the comfort of Truvy's Beauty Salon. As they tackle the challenges of life with laughter, charm, tears and grit, the audience is reminded that, while the characters are as lovely and fragile as magnolias, they are also as tough and unflinching as steel.
"Steel Magnolias" is a true story written by Robert Harling about the fierce independence, wicked humor, and powerful spirit of his sister, his mother, and the other strong southern women, the "steel magnolias," he grew up with in Nachitoches, La.
"In this very special play, Harling captures the deeply enduring resilience, comradeship, and love of these women – underlying such trivialities as haircuts, manicures and gossip," director Jan Powell said. "I invite the audience to just revel in the music of the language in this show: the rhythms of the voices, the syncopation of their laughter, the quick percussion of their jokes, and understand that so much more is going on beneath the surface."
The production stars Jessica Woehler of El Dorado Hills, Calif., as "Truvy Jones"; Madelyn Larson of Terrebonne, Ore., as "Annelle Dupuy-Desoto"; Mychal Sanders of Newberg, Ore., as "Clairee Belcher"; Tiffany Gilly of Forest Grove Ore., as "Shelby Eatenton-Latcherie"; Hannah Adderly of Beaverton, Ore., as "M'Lynn Eatenton"; and Holly Hunn of St. Helens, Ore., as "Ouiser Boudreaux."
This is Powell's first show at George Fox. She has worked as the artistic director of the Lake Tahoe Shakespeare Festival, was the founding artistic director of the Tygres Heart Shakespeare Company (resident in the Portland Center for the Performing Arts), and served as past president of the Shakespeare Theatre Association. She has directed the entire canon of Shakespeare's histories.
The performance features theatre (theater) major students as well as students from other majors.
The George Fox University theatre department has been recognized by the John F. Kennedy Center for the Performing Arts in Washington D.C. with awards for individual acting, set design, and overall production.
George Fox University is ranked by Forbes among the top Christian colleges in the country. George Fox is a Christian university classified by U.S. News & World Report as a first tier regional university and a "Best Value" school. More than 3,500 students attend classes on the university's campus in Newberg, Ore., and at teaching centers in Portland, Salem, and Redmond, Ore., and Boise, Idaho. George Fox offers bachelor's degrees in more than 40 majors, degree-completion programs for working adults, five seminary degrees, and 11 master's and doctoral degrees.
Contact:
Rhett Luedtke
Associate Professor of Theatre
503-554-2632
###