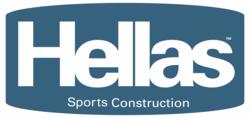 Our team is what sets us apart.
Austin, Texas (PRWEB) October 06, 2011
The economy may be slowing, but the celebrated sport of football will continue to triumph. National firm, Hellas Sports Construction, has not only survived the withering Texas drought with beautiful synthetic turf, they've managed to continue to grow amidst a grueling recession, hiring eight new staff members.
Ryan Fiebiger, former UT football captain joins the Hellas team, along with John Martin, Dana Raykovich, Tyler Britz, Danny Ash, Matt Moore, Eric Konz and Mike Kitts. Fiebiger is excited to join the team and states, "I feel very fortunate and honored to have been hired by Hellas Sports Construction as the business development manager for the Rocky Mountain region. Hellas is an industry leader that excels in all phases of sports construction with an unparalleled dedication to quality and customer service. As a former collegiate athlete with a professional career in sales and marketing, I had a desire to combine my passion for sports and my hunger to work with a professional organization that operates in the athletic industry. I found everything I was looking for with Hellas Sports Construction."
With a reputation for a streamlined, comprehensive design, installation process and an in-house product line, growth at Hellas (albeit not completely unaffected by the economy) continues to take place. Reed J. Seaton, CEO at Hellas, recognizes that school funding has taken a hit, resulting in less money for new or renovated athletic facilities, but he sees only room for improvement at Hellas.
Hellas is concurrently servicing projects nationwide, with 350 on its payroll. Maintaining and reinforcing a workforce that can coordinate and deliver on even the most ambitious plan is a constant objective at Hellas. "It's always about getting the best people to join our firm," explains Seaton. Hellas prides itself on its knowledgeable and experienced staff. "We've orchestrated a group of incredibly talented individuals that work together to innovate, manufacture and install the highest quality products in the industry. Our team is what sets us apart."
"We are getting ready to acquire an interest in a Northeast company, opening more offices and expanding our business development," reveals Seaton. "We are a debt-adverse organization, operating with a simple, sound business practice -- expand, make money and avoid debt."
Seaton also remarks that customer satisfaction is key in the company's success, and that the company's impressive rate of growth is the result of dedication, honesty, hard work and pride in its process and product. Hellas Sports Construction is celebrating almost a decade of stellar performance, proving they can take on any new project and expect impeccable results.
About Hellas Sports Construction
Headquartered in Austin, TX, Hellas is one of the largest sport contractors in the United States. While specializing in the general construction of sports facilities and synthetic surfaces, Hellas also champions innovative turf manufacturing, base construction, field, track and tennis installation and maintenance. Notable clients include the Dallas Cowboys Stadium, the Cotton Bowl, Baylor University, Idaho State, the Alamodome and Northern Arizona University. Hellas controls all business processes to take its products straight to the end-user including marketing, sales, quality control and project management. For more information visit HellasSportsConstruction.com.
###