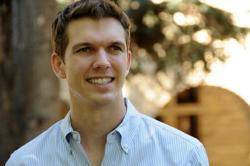 "Matt Ivester has written a guide to the opportunities and dangers of social networks and online behavior that will not only save reputations but literally save lives," -David Bohnett, founder of GeoCities.com
Palo Alto, Calif. (PRWEB) October 11, 2011
What if every mistake you ever made in college was captured and shared with everyone you know, and then with thousands of strangers every day for the rest of your life? Matt Ivester, creator of the most controversial website to ever hit college campuses, has taken his intimate knowledge of online behavior and documented the dangers of this new reality in his book, "lol…OMG!: What Every Student Needs to Know About Online Reputation Management, Digital Citizenship and Cyberbullying," available on Amazon.com and BarnesandNoble.com Oct. 10.
"Matt Ivester has written a guide to the opportunities and dangers of social networks and online behavior that will not only save reputations but literally save lives," said foreword contributor David Bohnett, a philanthropist and founder of the Internet-based media and e-commerce company, GeoCities. "Taking what he learned from his prior entrepreneurial experience—a site for students that generated a lot of controversy and negative attention—and turning it into a positive book to help future generations avoid the same kinds of problems is a remarkable achievement."
Technology has changed the way college students learn—they now have access to unlimited amounts of information with a simple search on Google. They can crowd source test answers on Quora, collaborate on homework with Facebook, access how-to videos on You Tube, use Skype to practice foreign languages and take notes with Livescribe. But, this new digital frontier has a dark side: In today's social media-dominated world, everything a person posts online becomes part of her permanent record. What once was a myth used by school teachers to scare kids into behaving has become a reality on the Internet, and Ivester, himself born of the social media generation, wants to help students become responsible digital citizens and keep their permanent records clean.
Ivester knows first-hand just how reckless students can be online as the founder of the once wildly popular anonymous online campus hangout, JuicyCampus.com. What started out as a fun place for students to share their stories about campus life soon turned into what ABC's Katie Couric described as a "malicious cesspool of barbs, disses and insults." The site provoked investigations by two state attorneys general, generated hundreds of complaints from users, administrators and parents, attracted the attention of national media and made student governments vote to ban it. Uniquely qualified, Ivester wants to share the lessons he learned.
"With the renewed perspective that can only come from a few years of distance, I view JuicyCampus as what I would call an 'lol…OMG! I just thought it would be fun (lol); but it quickly turned into something else—something bigger, more negative, and harder to control than I had ever expected (OMG!)," writes the technology entrepreneur in his preface. "I did a bit of research and found that there was a serious gap in the availability of educational materials on these topics geared toward higher education. There are many books on reputation management and personal branding focused on business professionals, and an abundance of information available about Internet safety and cyberbullying for children, but college students, for the most part, had been overlooked…I believe that education on the responsible use of technology needs to happen at every level, addressing the unique challenges that students face at all stages of their educations."
"lol…OMG!" explains the unanticipated negative consequences of students' digital decisions—from lost job opportunities and denied college and graduate school admissions to full-blown national scandals. Ivester argues that everyone looks at your record online now: prospective employers, love-interests, teachers, admissions offices, even your parents. The book also illustrates how technology allows students to bully one another in new and disturbing ways, and why students are often crueler online than in person. Ivester uses real-life case studies, including a Duke graduate's now infamous "Sex List" PowerPoint presentation, a UCLA junior's anti-Asian rant on YouTube, Miley Cyrus' viral photo scandals and the tragic, cyberbullying-induced suicide of Rutgers' freshman Tyler Clementi.
Ivester prescribes actionable strategies to empower students, including seven steps they can take right away to begin guarding and repairing their online reputations. He also enables readers to judge their online decision-making with ten important tests. Two of these are the Offline Test and the Real-Name Test: Would you be willing to do the offline equivalent of this online action? And, how would you change your behavior if you knew that your real name would be associated with it?
The book will be available on BarnesandNoble.com as well Amazon.com for $24.95 hardbound, $14.95 soft cover and $ 9.99 e-book. Visit the website and facebook page for more information.
Publication date: October 2011
Hardcover with book jacket; 162 pages
Published by Serra Knight Publishing
Library of Congress Control Number: 2011914953
ISBN: 978-0-615-52889-2
MORE ABOUT MATT IVESTER
Matt Ivester is a technology entrepreneur living in Palo Alto, California. He is best known for having created JuicyCampus.com, which was the largest college gossip website in the United States until it shut down in February of 2009. Since that time, Matt has spoken on college campuses across the country, covering such topics as ethical entrepreneurship, reputation management and digital citizenship. Prior to founding JuicyCampus, Ivester raised and managed a multi-million dollar investment fund and created a website that transacted more than a million dollars in revenue. He has been featured by media outlets such as The New York Times, Forbes and CNN. Today, he is pursuing his MBA at the Stanford Graduate School of Business, where he is focusing his studies on entrepreneurship, privacy and reputation management systems. He graduated from Duke University in May 2005 with a Bachelor of Science in computer science and economics.
EXCERPT FROM lol…OMG!
"The digital world is only as good or bad as we make it. The Internet isn't a conscious being making its own decisions. People around the globe are contributing to its development – whether they are entrepreneurs creating new social media sites, moms writing blogs, or students using Facebook. Online social norms are still being decided, and they are being decided by you, and people like you. You have much more control than you might think…The point is, you are powerful. You are shaping the Internet, leaving a legacy that will echo for years to come. Whether you organize a big campaign to combat issues of online incivility, actively stand up against cyberbullying or just lead the way by modeling ethical online behavior, you can have a real, lasting impact."
[Chapter 10: Your Digital Citizenship]
For media inquiries, interviews and other information or to receive a complimentary review copy of "lol…OMG!" please contact Campbell Communications: Kirk Mottram, kgm16(at)fastmail(dot)net, (310) 613-2767 or Carolyn Campbell, campcom(at)pacbell(dot)net, (310) 659-5427.
###