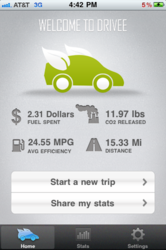 Besides being challenging and fun to use, Drivee gives motorists the ability to do something about greenhouse gasses every time they get in their car. And it keeps more money in their pockets, too.
Santa Clara, CA (PRWEB) October 07, 2011
Beat the Traffic®, a leading provider of real-time traffic information for broadcast media and mobile devices, is pleased to announce its participation in a $1.2 million research project to study and evaluate technologies that help people drive smarter in order to lower emissions and save fuel. The three-year project, one of the first major U.S. studies to focus on 'eco-driving' techniques, will leverage Beat the Traffic's expertise at determining and modeling the impact of intersection delays on traffic flow.
Conducted by the Center for Environmental Research and Technology at the University of California, Riverside, the research project will result in the development of a next-generation, environmentally friendly driving feedback system with the goal of generating fuel savings of between 10 and 30 percent. The project is being funded by a U.S. Department of Energy grant, which is part of a $175 million federal program aimed at improving the fuel efficiency of the next generation of U.S. vehicles.
Eco-driving – which consists of modifying one's driving behavior to maximize fuel economy, minimize carbon emissions and increase safety – will be an important part of meeting future fuel efficiency standards, said Andre Gueziec, founder and CEO of Beat the Traffic. "Technology has tremendous potential for improving the way we drive, which affects everything from how much we spend on gasoline to air quality to accident rates," Gueziec said. "We're very proud to be part of this research and we look forward to contributing to a greater understanding of this important issue."
Recently, the Obama Administration announced new fuel efficiency standards for cars, commercial trucks, buses and other heavy-duty vehicles that must be met over the next 14 years. The UC Riverside research project, which represents collaboration between public and private entities, will help ensure that technology will be available to meet these new standards. Other participants in the project include the University of California at Berkeley, Riverside Transit Agency, the California Department of Transportation (CalTrans), ESRI, NAVTEQ, Earthrise Technology and Automatiks. Work on the project will be based out of the Center for Environmental Research and Technology at UC Riverside. Field tests will be performed by commuter and commercial travelers in Riverside and San Bernardino counties.
Beat the Traffic today became an early adopter in the eco-driving revolution by launching Drivee, a new mobile app for the iPhone that provides drivers with real-time feedback on their fuel usage and the environmental effects of their driving habits. After a trip, Drivee tabulates the driver's performance and users can share their fuel economy stats on Facebook or Twitter.
Drivee comes equipped with one of the most complete databases of cars for users to choose from, since eco-driving performance is affected by vehicle make and model. Drivee is available at no cost on iTunes and on the iPhone App Store.
"Drivee is a natural extension of Beat the Traffic's commitment to safe, efficient and environmentally friendly travel, but it's also so much more," said Guieziec. "Besides being challenging and fun to use, Drivee gives motorists the ability to do something about greenhouse gasses every time they get in their car. And it keeps more money in their pockets, too."
For more information about the eco-driving research project, visit http://www.cert.ucr.edu/. For more information on Drivee, Beat the Traffic's mobile eco-driving app, visit http://www.drivee.co/download.
About Beat the Traffic
Based in Santa Clara, California, Beat the Traffic® is the fastest growing provider of vehicle traffic reporting solutions in North America. Over one million motorists throughout the U.S. and Canada have downloaded Beat the Traffic's mobile applications, and the Beat the Traffic 3D system and software is currently used by 55 television stations, cable providers, and newspaper groups for on-air, online and mobile traffic reports. Acclaimed for its visually-striking graphics, simple setup and user-friendly interface, Beat the Traffic is a recipient of the TVTechnology STAR Award as well as Television Broadcast magazine's Top Innovation Award. As the only independent provider in the industry, Beat the Traffic has sustained its rapid expansion via media affiliates by maintaining a relentless focus on technical innovation and state-of-the-art data modeling, coupled with the tools, service, and personalized attention the media needs to deliver a distinguished product in an increasingly "me too" environment. Triangle Software LLC, the parent company of Beat the Traffic, is a National Science Foundation funded early innovator in traffic prediction and presentation science. Beat the Traffic technology is protected by U.S. Patents Nos. 6,989,765, 7,161,497, 7,221,287, 7,375,649, 7,508,321, 7,557,730, 7,610,145, 7,702,452 and 7,880,642 and other pending patents. For more information visit http://www.beatthetraffic.com or http://www.trianglesoftware.com; watch our videos at http://www.youtube.com/beatthetraffic; or follow us on Twitter at http://www.twitter.com/btt3d.
PRESS CONTACT:
Andre Gueziec
408-777-6525
andre(at)beatthetraffic(dot)com
###