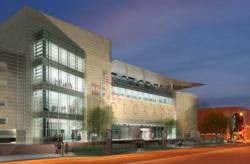 Once open to the public in Spring 2012, the History Colorado Center will become alive as a thought-provoking center for civic conversation and an inspirational journey into the past for visitors of all ages.
Denver, Colorado (PRWEB) October 07, 2011
History Colorado celebrated a building milestone today with the new History Colorado Center in Denver: construction completion. In just one year after its topping out, construction of the dynamic History Colorado Center is complete on schedule and on budget. The $110.8 million, nearly 200,000 square-foot state facility created jobs and economic development, tapped into local talent, and will be a 21st-century museum, educational and tourist destination when it opens to the public in Spring 2012.
This morning, an inscribed block of limestone installed on the building's Broadway-facing exterior honoring Colorado's Governor John W. Hickenlooper, former Governor Bill Ritter and the 2008 General Assembly was unveiled by the two governors and Lt. Governor Joe Garcia.
Located in Denver's Golden Triangle Museum District and Civic Center cultural complex, the building was designed by Denver-based architecture firm Tryba Architects, managed by the Denver office of Trammell Crow Company and constructed by Colorado-based Hensel Phelps Construction Co. According to project manager Trammell Crow, more than 700 jobs and millions in economic impact were created by its construction.
"We could not have accomplished such a dynamic public project of this level without the support and dedication of both Governors Hickenlooper and Ritter administrations, or without the expertise, dedication and passion of our building team—Tryba Architects, Trammell Crow and Hensel Phelps," said History Colorado President & CEO, Ed Nichols.
The History Colorado Center serves as headquarters for History Colorado administration, including the State Historical Fund, the Office of Archaeology & Historic Preservation, and the Stephen H. Hart research library. Administrative offices are currently open for appointment-only business.
Over the next six months, more than 1,000 pallets of museum collections will be moved from a storage facility into a highly efficient, climate-controlled collection storage space at the History Colorado Center. Inside, build-out of all new, highly interactive exhibitions, educational spaces, a restaurant, a museum store and other public spaces is underway.
"Now that the building is complete, we turn our attention to transforming the inside with new exhibitions and educational spaces. Once open to the public in Spring 2012, the History Colorado Center will become alive as a thought-provoking center for civic conversation and an inspirational journey into the past for visitors of all ages," said Nichols.
The Colorado History Museum was located at 13th Ave. and Broadway and closed to the public March 28, 2010. It was demolished in May 2010 to make room for the Ralph L. Carr Colorado Judicial Center. The History Colorado Center and the Ralph L. Carr Colorado Judicial Center projects were financed together through Certificates of Participation and Build America Bonds, saving more than $200 million from the legislatively authorized debt service and using no State General Funds, according to building project manager Trammell Crow Company. In addition to job creation and the economic benefits, the two state projects are also expected to provide significant savings in private lease payments and building maintenance expenses over the next 30 years.
"The entire team associated with this project has met or exceeded expectations," said History Colorado Center project manager Bill Mosher, Principal and Area Director for Trammell Crow Company. "The project was completed within budget and on schedule, jobs were created that employed many of our citizens, and we built a durable and sustainable project that will serve generations of people interested in learning about Colorado's great past and exciting future. We are honored to have had a role in this project."
Designed by Tryba Architects, the History Colorado Center will be the newest state building to be built to the U.S. Green Building Council's LEED Gold certification. Tryba Architects, based in Denver, specializes in highly visible public architecture and has developed a national reputation for designing distinctive places and unique works of architecture. Tryba Architects has designed new museums and expanded existing ones, as well as completed other prominent civic and historic buildings. Recent work includes Lone Tree Arts Center, Colorado Springs Fine Arts Center, Denver Botanic Gardens, Atlanta History Center, Babi Yar Memorial Museum, Mizel Museum, Birmingham Bloomfield Art Center, Hotel Teatro, Mercantile Square and the City of Denver's Wellington E. Webb Municipal Building.
Principal David Tryba noted that museums are "community anchor institutions" and are among the most trusted institutions in our country. "They are places that are critical to the quality of life in our communities. As core community institutions, they have a unique opportunity to fulfill a diverse range of needs. The History Colorado Center will provide just that kind of anchor," he said.
"Hensel Phelps is honored to be a part of the collaborative team which has made the design and construction of the History Colorado Center an effortless and exciting project," said Jerry L. Morgensen, Chairman Emeritus, Hensel Phelps Construction Co. "The opportunity to create this new home to archive and document Colorado history has additional meaning for the Hensel Phelps family as we embark on celebrating our 75th year as a local Colorado contractor."
Morgensen explained the History Colorado Center project has allowed Hensel Phelps to deliver on its commitment to the local market by continuing to create construction opportunities for the local workforce and small business enterprises. More than 90-percent of the work was performed by companies with local offices. "We are proud of the quality and craftsmanship delivered by the construction workers from Colorado," he said.
History Colorado Center exhibitions will open in three phases over the course of the next three years. Exhibits on the first and second floor will open in the Spring 2012 that explores the spirit and stories of Coloradans, its enduring communities, triumphs and tragedies. It will include a terrazzo floor map of the state with a storytelling time machine, highly interactive exhibits that feature activities such as a virtual ride in a Model T; the ability to don a headlamp and descend into a Silverton hard-rock mine; and a virtual soar off the world's first ski jump in Steamboat Springs. Plenty of fun, family-friendly activities, public programs, fascinating lectures and other events keep the History Colorado Center buzzing with activity.
For more information about the History Colorado Center, visit http://www.HistoryColorado.org.
About History Colorado
Established in 1879, the Colorado Historical Society – now known as History Colorado -- offers the public access to cultural and heritage resources of Colorado, including statewide museums and special programs for individuals and families, collection stewardship of Colorado's historic treasures, educational resources for schools, students and teachers, services related to preservation, archaeology and history, and a research library. It is headquartered in the History Colorado Center in Denver's Golden Triangle Museum District. Find History Colorado on Facebook at Facebook.com/HistoryColorado and Twitter @HistoryColorado. For more information, visit our website at http://www.HistoryColorado.org, or call (303) HISTORY.
###