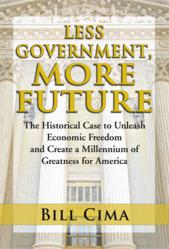 Less Government, More Future is a must read for every American prior to the 2012 elections.
San Diego, California (PRWEB) October 11, 2011
Why would an author devote over a year to research and writing a book, spend thousands of dollars wading through the editing, printing and marketing processes, then introduce the book at an initial offering price of zero, zilch, free? That is just what Bill Cima is doing.
Granted, this is for a limited time only and it applies exclusively to the e-version (normally lists at $11.95), and not the hard cover edition (lists at $24.95). Still, it is highly unusual that an author or publisher would risk cannibalizing their sales at the outset with this kind of an offer.
Bill Cima has a different perspective. To Bill, writing Less Government, More Future was never about making money; it was about a passion, about reversing our nation's economic decline and restoring America to a millennium of greatness.
Feedback from many, many, readers of advanced copies is that this is the best book they have ever read for defining the political spectrum and presenting a well thought-out case for less government. The extremely positive response has been an inspiration for Cima, who is now even more driven to make a difference in the 2012 elections and, thereafter, in America's future. From his vantage point, that entails getting his book expeditiously into the hands of as many Americans as possible. Bill believes offering free ebooks is the best vehicle to achieve this goal.
To Cima, America stands on the precipice of what can either be an irreversible descent into decades or even centuries of economic stagnation and declining global stature, or a robust ascent into a future of unmatched economic vitality and world dominance. The difference between these two outcomes will be determined by the extent to which America moves, if at all, to restrain government and enhance economic freedom. The next five years and, particularly, the 2012 elections are critical to the battle for our future.
Cima presents a solid intellectual dissertation, relying on a broad historical and economic foundation to make his case. Compelling evidence is presented to show that our present level of total government spending (federal, state and local combined) is nearly twice its optimal level, which, in conjunction with stifling regulation, is severely degrading our economic rate of growth and our future.
In making his arguments, Cima draws upon his wealth of education and experience, from his U.S. Naval Academy B.S., his M.S. and his MBA degrees to his experiences as a Navy fighter pilot, airline captain, aerospace industry manager, author, entrepreneur and small business owner and operator.
What blossomed into a book, began as just a position paper. After years of witnessing Cima's frequent political discussions with people from all walks of life, Saundra Cima, Bill's wife, realized that Bill had crafted a particularly convincing argument for less government and more economic vitality that opponents found interesting, appealing and non offensive. She suggested that Bill write a short 4 or 5 page position paper and publish it. When he was 30 pages into this short 4 or 5 page essay and still had not scratched the surface on many issues, Cima realized that his position paper was, in fact, destined to be a book.
Less Government, More Future is now available in hardcover and ebook at the web site shown below. Take advantage of our limited time offer to download your free ebook now.
http://www.lessgovernmentmorefuture.com
# # #