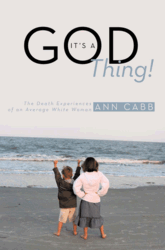 Lubbock, Texas (PRWEB) October 11, 2011
In It's a GOD Thing! The Death Experiences of an Average White Woman (published by WestBow Press), Ann Cabb narrates a life time of death experiences she has lived. She reassures believers, gives doubters reason to pause, and affords non-believers the opportunity to rethink their choices.
In 35 chapters, Cabb tackles a wide variety of topics that concern spiritual and physical life. Cabb details her many experiences with death, from murder, suicide, war, SIDs, cancer, and hospice experiences, to the death of her unborn child and, ultimately, the death of her marriage. Cabb details her own personal brushes with death and includes insightful and thought provoking life lessons at the conclusion of each chapter.
Intensely emotional and intimate in scope, It's a GOD Thing! delivers a heartfelt account of one woman's spiritual awakening as well as the scientific and medical research that supports her claims.
"To understand my experiences from this earthly side, I often turn to science as well as religion," explains Cabb. "In an age of prolific scientific discoveries, it is imperative for the world to know there is more beyond our physical senses – science is a way for understanding God's creations."
It's a GOD Thing! provides the foundation for Cabb's further work on the subject of religion, science and life after death. Books tentatively titled Belief Systems 101: Understanding the Effects of our Thoughts and Science is Bullying God are in the works.
About the Author
Ann Cabb teaches high school English, and college level classes in writing, psychology, ethics and communication. She has earned bachelor's degrees in psychology and English; master's degrees in social science, and counseling; a secondary education certification; and school counseling/ESL certification. Cabb's hobbies include reading non-fiction, quilting, knitting and gardening. Contact her at http://www.anncabb.com
WestBow Press is a strategic self-publishing alliance of Thomas Nelson, the world's premier Christian publisher, and Author Solutions, Inc. (ASI)—the world leader in the fastest-growing segment of publishing. Through this partnership, authors benefit from the rich publishing heritage of Thomas Nelson and the speed-to-market advantages of the ASI self-publishing model. Titles published through WestBow Press will be evaluated for sales potential and considered for publication under the Thomas Nelson imprint. For more information, or to start publishing today, visit westbowpress.com or call 866-928-1240.
###