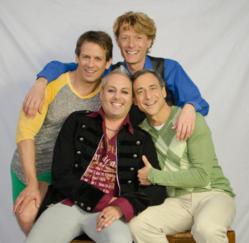 Sparks are going to fly!
West Hollywood, California (PRWEB) October 10, 2011
Thanks to the enthusiastic reception to its pilot, the web series "Old Dogs & New Tricks" will begin production on its first season which will premiere January 8, 2012.
"Old Dogs & New Tricks" focuses on four successful gay best friends, all struggling to stay vital and relevant in youth-obsessed West Hollywood even as they approach middle age.
"Think 'The Birdcage' meets 'Sex and the City' and you've got an idea of how this fabulously fun show plays," noted Placevine.com, which covers the web TV industry.
Leon Acord ("Carved in Stone", "Some Prefer Cake"), Curt Bonnem ("Kowalski"; "Lovelace: The Rock Opera"), Jeffrey Patrick Olson ("Daddy"), and David Pevsner ("Naked Boys Singing", "To Bitter and Back") star as the four friends. Other recurring roles include cabaret star Amanda Abel, Ryland Shelton, and Patrick Bristow ("Ellen", "Austin Powers", "Showgirls"). Thom Bierdz ("The Young and the Restless") and Bruce L. Hart ("Homewrecker") will guest star.
Says creator and star Leon Acord, "We're amazed at the response to the pilot, which scored a 95% 'like' rating from viewers and got more than 5,000 YouTube views in less than two months." Adds producing partner Laurence Whiting, "We have a fantastic cast and crew and some terrific guest stars lined up. This first season, sparks are going to fly!"
"Old Dogs & New Tricks" was created and written by Leon Acord, and was developed for the web and will be directed by Arvin Bautista ("Archie's Final Project"). Matt Ladensack, Laurence Whiting, and Mr. Acord serve as Co-Executive Producers. The show's score was composed by veteran film and television composer Nic. tenBroek ("Dark Angel", "Xena: Warrior Princess").
###