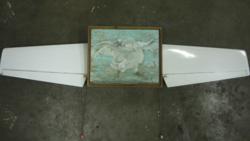 This is a terrific group of exceptional artists working with found objects exhibiting in a salvage environment
Sarasota, FL (PRWEB) October 09, 2011
Sarasota Architectural Salvage today announced their Artists' Reception & Fundraiser scheduled for Thursday, October 13, 2011 from 5:30 to 8:00 PM to benefit the Leslie Lerner and Roxie Thomas Fine Art Scholarship Fund at Ringling College of Art and Design.
15 acclaimed artists have been invited to create work incorporating salvage or found objects which will be at Sarasota Architectural Salvage (SAS) for only 5 days through October 18th. $15 tickets in advance are available through the SAS site at http://www.sarasotasalvage.com and more information is available through the event page at http://www.facebook.com/event.php?eid=267123519972770.
The artists include: (Date designates year graduated Ringling College)
Joseph Patrick Arnegger '94
Mark Burdette
Kevin Dean - Director Selby Gallery & RCAD Faculty
Brian Haverlock - RCAD Faculty
Tim Jaeger '02
Cassia Kite
Linda Lee '00
Shawn O'Malley
Greg Pennenga
Richard Sassone
Nathan Skiles '03
Sabrina Small
Steve Strenk '95 & RCAD Faculty
Anita Wexler
Amy Williamson Miller and Kenneth Miller Collaboration
According to Jesse White, owner of Sarasota Architectural Salvage, "This is a terrific group of exceptional artists working with found objects exhibiting in a salvage environment. Combine that with ticket sales benefiting the fine arts scholarship fund at Ringling College and tasty light bites and beverages and I believe it will make for an exceptional evening."
Sarasota Architectural Salvage is located at 1093 Central Ave, Sarasota FL. Sponsors include Beck's Brewery - Gold Coast Eagle Distributing, Carr's Corner Café, G4S Secure Solutions, Local Catering/Local Coffee and Tea and Nellie's Deli, Market, and Catering.
This is the first in a series of events Sarasota Architectural Salvage is hosting through season, including November 10th, 2011 - Mothers and Others Helping Mothers, December 8th, 2011 - Child Protection Center Benefit and toy drive, January 26th, 2012 An Evening With Healthy Start Benefit, February 22nd, 2012 - Habitat for Humanity Benefit , and March 15th , 2012 -
Mote Marine "Nautical Night at the Salvage Yard." More information and tickets are available through the SAS website at http://www.sarasotasalvage.com.
###