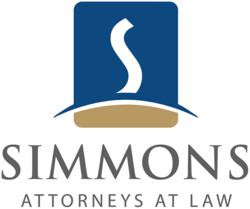 Cooke was deployed to Iraq about the same time Saddam Hussein was captured
East Alton, IL (PRWEB) October 10, 2011
Simmons Firm Partner Brian Cooke has been awarded the prestigious 2011 "Spirit of Justice" Award, given by the Fellows of the St. Louis Bar Foundation, for his dedication to the administration of justice.
The Spirit of Justice Award recognizes lawyers, non-lawyers and programs that have demonstrated accomplishment, leadership and integrity in fostering and maintaining the rule of law and in facilitating and promoting improvement of the administration of justice.
Cooke was honored for his military service and continued service to veterans, according to announcement. As a Marine Corps Captain and Judge Advocate, Cooke was deployed to Iraq about the same time Saddam Hussein was captured and Iraq's semblance of a court system had collapsed.
During his deployment as a field team leader for the Iraqi Ministry of Justice, Cooke served his country as the first Western prosecutor to appear before the Central Criminal Court of Iraq. In this capacity, he was tasked by the U.S. Department of Justice to restore the rule of law in Iraq, while respecting the country's sovereignty under International Law.
Today Brian is a Partner at the Simmons Law Firm, where he represents victims of asbestos exposure, including a number of military veterans. He has also provided legal counsel to veterans on a pro bono basis throughout the St. Louis area.
"Brian's continued service to helping military veterans illustrates Brian's true identity and provides a telling example of how he tries to live his life," said Simmons Firm Partner Nick Angelides.
Winners will be honored at the 4th Annual Golden Gala presented by the bar foundation on Nov. 11 at the Chase Park Plaza.
Persons interested in additional details, including information about additional winners and purchasing Gala tickets, can visit https://m360.bamsl.org/event.aspx?eventID=33268.
About the Simmons firm:
The Simmons firm, headquartered in Alton, Ill., is one of the country's leading asbestos and mesothelioma law firm. With offices in Illinois, Missouri and California, the firm's mesothelioma lawyers have represented over 2,000 patients and families affected by mesothelioma in every state. The Simmons firm has pledged over $20 million to cancer research and proudly supports mesothelioma medical researchers throughout the country in order to find a cure. For more information about the Simmons firm, visit http://www.simmonsfirm.com.
###