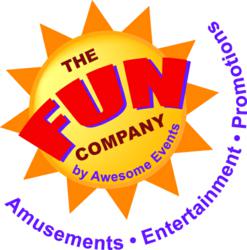 Los Angeles, CA –
October 11, 2011 (PRWEB) October 11, 2011 -- Halloween has long been a traditional holiday where kids dress up in fun costumes and go door-to-door in their neighborhoods looking for candy and treats. However, with parents becoming more concerned about safety and communities looking for ways to provide family-oriented entertainment, Halloween parties are on the rise. While kids and adults still enjoy dressing up in clever and creative costumes the idea of wandering around in the dark for hours on end has many looking for group-centered events where parents and kids can enjoy the festive holiday in a safe environment. The Fun Company, a party rental company serving all of Southern California, is seeing a sharp increase in demand for inflatable games, obstacle courses and slides to be used at Halloween block parties.
While costumes and candy will always be a part of Halloween, more parents are hip to the idea of having their children attend supervised parties where kids not only enjoy sweet treats and a good scare but also can hop around in inflatable jumpers, play arcade games and participate in friendly competitive sports games and obstacle course races. The Fun Company specializes in providing party rental inflatable equipment that is safe for kids of all ages and can be used inside and outdoors. With the increase in Halloween parties being sponsored by neighborhoods and communities the company expects to see a huge spike in inflatable rentals for the month of October.
Across Southern California and many places in the United States, communities are planning outdoor block parties and Halloween events in school gyms and recreation centers to provide kids and families with a safe environment to enjoy the holiday. With adult supervision and safe inflatable games and contests kids can still have a fun-filled evening but now parents won't have to worry about their children walking around dark neighborhoods by themselves and receiving candy that has been taken out of its packaging, recent events that have caused some parents to keep their kids home. The Fun Company is allowing the fright night festivities to continue and with added thrills including inflatable slides and jumpers to make it much more than just a costume parade.
Featuring inflatable slides, obstacle courses, sports games, slides and a wide variety of arcade games, kid carnival rides and fun food catering, The Fun Company has plenty of exciting amusements to keep adults and kids fully entertained throughout the night. In addition to interactive rides and games The Fun Company can also provide face painters, character artists, clowns and magicians that are a perfect fit for Halloween parties.
The Fun Company, located in Azusa, CA is an event planning and party rental company serving all of Southern California including Los Angeles, San Diego and Orange County. Featuring catering, amusements, inflatable games, obstacle courses and slides, The Fun Company has a wide variety of kid-friendly and safe amusements and games for kids of all ages. Press Release Services provide by Keyword Performance LLC, a leading internet marketing firm specializing in search engine optimization.
###