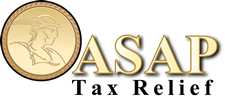 Some of the most common tax problems include back taxes, unfilled tax returns, bank levies, wage garnishments or liens...
Mount Pleasant, SC (PRWEB) October 08, 2011
ASAP Tax Relief recently announced their launch of their new website. Whether you are experiencing bank levies, wage garnishments or IRS liens with the accompanying fines and interests, the highly trained tax specialists at ASAP Tax Relief are prepared to tackle and negotiate tax solutions in your particular situation. They put their collective tax experience together to formulate a tax solution that is amicable to both parties. Our Tax Specialists and Enrolled Agents have many years of experience in dealing with the IRS and designing solutions for all types of taxpayers.
As noted by CEO of ASAP Tax Relief, "Some of the most common tax problems include back taxes, unfilled tax returns, wage garnishments If you are behind, there is probably interest and penalties tacked on to your original bill which can easily double over five to seven years. A 25% late filing penalty is commonly accrued for each year you failed to file. "
They take a three pronged approach to assist you in quickly resolving your tax situation:
1. Analyze your situation so they understand your tax problem and your particular circumstances;
2. Recommend and openly discuss resolution options with you that overall match your specific tax issues, and
3. Implement the particular application process for the solution you've chosen
As mentioned above, there are several approaches to settling back taxes with the IRS and state tax authorities. The most applicable approach will very much depend on your particular circumstances. At ASAP tax relief, they are strictly in the business of helping taxpayers resolve their back taxes offering superb quality, service, and fees second to none. Their tax experts are well versed in aspects of tax law and are confident they can find a solution that works best in your situation.
About ASAP Tax Relief:
ASAP Tax Relief was formed to provide sound advice and tax resolution assistance that is tailored to the needs of each client, with honest advice and affordable solutions. We offer a personalized experience that is an alternative to the one-size-fits-all approach of most other firms. Our management and professional staff of Enrolled Agents and Tax Specialists have over 25 years of experience in the tax and accounting industry.
For a contact:
Dave McFarland
1-855-375-5400
http://www.asaptaxrelief.com
###