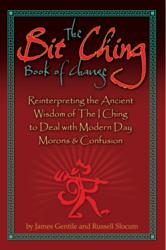 There's something that probably will enlighten, entertain or offend somebody on every page
New York, NY (PRWEB) October 11, 2011
How do you handle an overload of work? Annoying coworker? Lost direction?
You might find a good answer in this fresh, radically Westernized interpretation of the I Ching: Book of Changes, the 5000-year old text widely considered to be the foundation for all Eastern philosophy. Just released on amazon.com, The Bit Ching Book of Change: Reinterpreting the Ancient Wisdom of The I Ching to Deal with Modern Day Morons & Confusion is essentially a very modern guide to defining and achieving one's own idea of success and happiness, that is based on a very old spiritual treasure map.
The Bit Ching Book of Change covers a lot of territory, but the 64 two-page chapters make it an easy read – brief, to the point, and ideal for readers short on time or attention span. Each right-hand page provides a brief perspective on a certain type of dilemma. The facing page offers a related parable-like story of how one Working Dog applied a similar nugget of Eastern philosophy to handling a related modern predicament.
The character of Working Dog is based on the experiences of Pennsylvania construction honcho and coauthor Jim Gentile, a fan of the I Ching since he was twenty. He credits much of his business success and personal growth to its teachings, which add reflective facets to the bawdy, no-bull style of this founder of North Star Construction Management, based in Pennsylvania's Lehigh Valley. As of this writing, Gentile also owns all or part of a property development company, two medical centers, a retirement community, a recording studio and various industrial parks and other commercial properties.
Much of The Bit Ching Book of Change relates to building a career or business, but readers may find most of those perspectives analogous to non-business situations as well. Jim Gentile's experiences in construction make an apt metaphor for readers seeking to build their own individual idea of success, and for dealing with the various people and challenges that can help or hinder you in the pursuit. Although light and occasionally irreverent, The Bit Ching Book of Change remains faithful to the intention of its ancient ancestor – to offer guidance for overcoming uncertainty, anger and fear within us, as well as the morons, confusion and other obstacles around us.
The Bit Ching does not always tread lightly on the path to enlightenment. There may be a serious message behind each chapter, but the authors don't hold back on humor, expletives, or perspectives on the common practices and personality traits that they feel get in the way.
"There's something that probably will enlighten, entertain or offend somebody on every page," summarizes Russ Slocum, an ad executive who coauthored the book with long-time friend and business associate Jim Gentile.
###