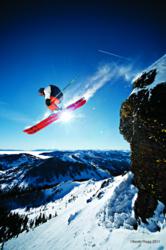 This film is an adrenaline-fueled dance with gravity, as world-class athletes drop lines from some of the most legendary peaks, to show us, frame-by-frame, how to live . . . Like There's No Tomorrow.
Boulder, Colo. (PRWEB) October 10, 2011
The pressure is off. No one is watching. It's just you, your boards and the mountain. The weather has broken and the snow is untracked. The only sound is that of your breath, crystallizing in the winter air. There's only one place to go, but there are an infinite number of ways to get there. Adjust your gear, take a deep breath and . . . ski, shred, huck, bomb, launch, spin, charge . . . Like There's No Tomorrow.
This year, Warren Miller Entertainment offers your first stop for preseason powder stoke, with the introduction of its 62nd annual winter sports film, Warren Miller's . . . Like There's No Tomorrow. Narrated by Olympic Gold Medalist Jonny Moseley and shot on location on five continents, . . . Like There's No Tomorrow celebrates the moments that make up a perfect winter. Tour the world's most inspiring snowy landscapes, from the rugged peaks of New Hampshire's Mount Washington to the legendary powder of Squaw Valley, California; from the striking Himalayas in Gulmarg, India to the southern hemisphere's highest peak in Portillo, Chile. Alaska. Utah. Colorado. New Zealand. Norway. It's all here, just waiting for you to fill in the blank.
Watch world-class athletes – including Chris Davenport, Julia Mancuso, Daron Rahlves, Colby West and Seth Wescott – drop lines most of us only see in our dreams and learn, frame-by-frame, how to live . . . Like There's No Tomorrow.
Warren Miller's . . . Like There's No Tomorrow will sweep the nation as a limited, high-definition release, stopping in more than 240 U.S. cities, including major markets like Seattle, Chicago and Los Angeles. With screenings often running for one night only, Warren Miller films attract a cult-like following and mark the official start of winter for sports enthusiasts everywhere. Warren Miller premieres are an experience, a party and a phenomenon not to be missed.
The 62nd annual film will kick off its U.S. tour with its World Premiere on Friday, Oct. 14 at 8:00 p.m. at Abravanel Hall in Salt Lake City, Utah. Held in partnership with Visit Salt Lake, the World Premiere of ...Like There's No Tomorrow will be an enhanced rendition of the annual Warren Miller Entertainment experience, as filmgoers will have a chance to meet some of the world's top winter sports athletes, including Chris Davenport, Seth Wescott, Daron Rahlves, Rachael Burks, Jess McMillan, Brant Moles, Tim Durtschi, Tyler Ceccanti and more.
Members of the media will also have a chance to speak with athletes starring in . . . Like There's No Tomorrow during a preshow press conference, to be followed by a press and industry reception put on by Visit Salt Lake.
Check out warrenmiller.com for more information, showdates, videos, photos and more.
Corporate Information
. . . Like There's No Tomorrow is Warren Miller Entertainment's 62nd annual feature film, adding it to the legacy of Warren Miller Entertainment's® pioneering influence in action sports cinematography. The national tour of . . . Like There's No Tomorrow is co-sponsored by Corona, Cuties and Ski Magazine. Warren Miller Entertainment® is a business of Bonnier Corporation's Bonnier Mountain Group® and is based in Boulder, Colorado. Bonnier Corp. (http://www.bonniercorp.com) is one of the largest consumer-publishing groups in the U.S. and is the leading media company serving passionate, highly engaged audiences, through magazines, events, digital media and leading-edge products.
###