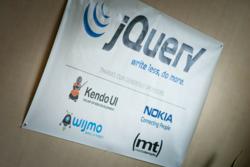 "jQuery has made a huge difference in the functionality of our site, so we were happy to provide advertising solutions for the 2011 jQuery Conference in Boston." --Rick D., Signazon.com CEO
Boston, MA (PRWEB) October 10, 2011
JavaScript library developers jQuery recently held their annual conference at the Royal Sonesta Hotel in Boston, MA. At the two-day conference, web developers from around the globe gathered to learn the latest tips, tricks, and tools for incorporating jQuery into their sites. In addition, the conference served as the official preview for jQuery 1.7 Beta, the latest edition of jQuery. Thanks to assistance from sponsors like custom signs company Signazon.com, jQuery's conference was a major success.
Originally released in 2006, jQuery has become the most-popular JavaScript library in use today. It is used by almost half of the top 10,000 visited websites. What makes jQuery unique is that it is cross-browser compliant, meaning that sites that employ jQuery can use the same coding for all Web browsers (Internet Explorer, Mozilla Firefox, Google Chrome, etc.). This simplifies the coding process for Web developers and makes websites more user-friendly. jQuery is also compliant with iOS-based mobile devices, which makes it a viable resource for future web development, compared to older alternatives like Flash, which are not iOS-compliant. With the release of 1.7 Beta, jQuery now includes improved support for HTML5, new .on() and .off() event APIs, and more.
To view an example of a site that currently employs jQuery, look no further than Signazon.com. The nationwide leader in custom signs recently incorporated the jQuery library into its new drop-down menus at the top of its site. "At Signazon.com, we take usability very seriously," says Rick D., CEO of Signazon.com, "Adding jQuery to our site was a perfect fit. jQuery makes our job easier and the site better at the same time."
When jQuery began preparing for its upcoming Boston conference, Signazon.com's Corporate Event Management team was able to assist. "jQuery has made a huge difference in the functionality of our site," says Rick D., "so we were happy to provide advertising solutions for the 2011 jQuery Conference in Boston." Since Signazon.com has a Boston production facility and seeks to be the industry leader among Boston sign makers, the company produced vinyl banners listing the jQuery Conference sponsors and also large poster boards which displayed the conference schedule.
With HTML5 on the horizon and the potential for Windows updates that do not recognize Flash, jQuery will continue to be a useful tool for Web developers looking to save coding time and enhance the usability of their site. For Signazon.com, working with jQuery has been a perfect partnership.
About Signazon.com
11969 Plano Rd, Ste 190
Dallas, TX 75243
1-800-518-1217
PR Contact: Jason.p(at)signazon(dot)com
Based in Dallas, TX and Boston, MA, Signazon.com is the top online business sign company. Different from a local sign shop, we have been deploying the very latest in e-commerce technologies, free template-based graphic design, and high-quality, full-color printing at cheap prices for car signs, vinyl banners, vinyl decals, window signs, yard signs, oversized checks, canvas prints, offset printing and sign accessories since 2005.
###