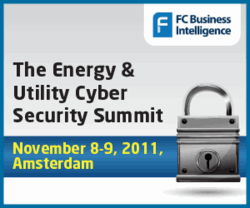 (PRWEB) October 10, 2011
Attendees from across Europe and internationally are flocking to Amsterdam, Netherlands in November to develop proven strategies to ensure the security and reliability of their critical infrastructure. According to sources at EyeforEnergy, over 25 representatives from Europe's major energy & utility companies including EDF, E-ON, Iberdrola, Gasunie, Vitens and Statnett will gather in Amsterdam to learn from the experience gained at key cyber security and modernization projects to help mitigate future risks and reduce their project costs and timelines. Experts from all the major utilities and asset owners across Europe is sending delegations, keen to drive the energy security industry forward and learn from the front-runners in the industry.
Due to the huge support from the large utilities and government agencies we are able to offer discounted passes to all attendees – with only 30 remaining conference passes this meeting is set to sell out in the next 2 weeks. Register before Friday October 14th and save €200 in early booking discount.
The event organizers FC Business Intelligence are anticipating droves of experts who are looking to establish their companies in this burgeoning market. FC Business Intelligence put this demand down to "The €10 trillion investment into modernizing European critical energy infrastructure and updating to the smart, interconnected super grid. This disruptive change to the process control systems and information assets is generating huge interest as to how best ensure the security and reliability of these key systems."
The conference will not only cover the leading case studies across Europe from E-ON, Shell, Iberdrola, NEK, Elia, Alliander, Brabant Water and many more but will also cover the latest national and international drivers from CPNI.NL, CERT, EuroSCSIE and ENISA amongst others. Crucial topics to be debated at this ground breaking forum will include keeping a head of Stuxnet II, people and policy and the certification of security products and end user protocols.
For more information on the Energy & Utility Cyber Security Summit which is taking place in Amsterdam, Netherlands on November 8th - 9th visit http://www.cybersummits.com/eu/download-brochure.shtml
Or alternatively contact Natasha Sheel the Confernece Organiser.
###