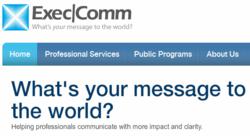 Miami, FL (PRWEB) October 10, 2011
Improve Presentation & Public Speakings Skills
Presentations are never about the presenter. It's not even about their content. It's about how the audience needs to use their content. Exec-Comm's Presentation Skills public seminar helps people improve public speaking skills by focusing on the needs of the target audience. When speakers focus on the audience's needs, they will present with greater confidence, poise, conviction, and impact.
By attending this course executives will learn to:
-Project a polished, professional manner
-Speak fluently and gesture naturally
-Quickly organize a presentation for greatest audience impact
-Create effective visuals
-Select and professionally present materials using various media
-Respond to questions
-Control interruptions during a presentation.
Attendees receive:
-A workbook for the class
-Individual coaching and feedback
-Access to an online manual
-A digital recording of your performance in the class.
The fee for this course is $895 per person.
Register Online Now, Call 1-888-980-0111 to register via phone or View all seminars.
###