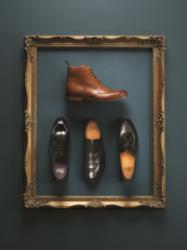 We didn't think it was fair that only women had all the fun!
(PRWEB) October 10, 2011
With a heritage spanning nearly 80 years and a reputation for high quality, Jane Shilton has become a staple British brand for women who crave high quality shoes and bags.
Over the last few years the Jane Shilton brand has expanded to reach a wider audience and develop new ranges, with this and last season in particular seeing increased growth from the brand, with new ranges and partnerships with other well established brands.
After starting the brand as a handbag manufacturer in 1933 Alex Shilton quickly expanded and since then the largely family run business has strived to expand, develop & remain innovative.
This is no more apparent that with the addition of the new men's range, Alex Shilton which brings affordable luxury to men's feet. This range of brogues, loafers and boots has been received well and its 2nd season has proved even more popular, with Director Andrew Shilton commenting "After so many years of creating beautiful ladies shoes, we didn't think it was fair that they had all the fun and so we set about creating a capsule collection for men. The response to it has been fantastic!"
Another key expansion for Jane Shilton was the introduction of the Pulse collection, a boutique sub brand which recreates popular high fashion, catwalk looks in a wearable way. Pulse is the perfect range for the fashion conscious who don't want to forgo luxury and comfort.
Aside from developing in house brands, Jane Shilton have also in the last few months sought partnerships with other brands and are now selling Joules wellingtons and some of the Emu sheepskin range. These partnerships have been chosen carefully and are brands which complement the longstanding Jane Shilton brand, and so far the uptake on these items has been encouraging.
###