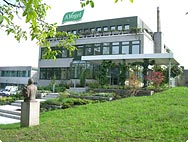 We are thus still convinced that standardized saw palmetto berry products are a good and safe treatment for mild to moderate BPH which has been reflected by everyday use and clinical experiences for more than 40 years
Roggwil, Switzerland (PRWEB) October 10, 2011
The Journal of the American Medical Association (JAMA) published in their recent issue a clinical trial on saw palmetto which was funded by the National Institutes of Health (NIH) (Barry et al. Effect of Increasing Doses of Saw Palmetto Extract on Lower Urinary Tract Symptoms JAMA. 2011;306(12):1344-1351]. At the end of the trial none of the measured parameters, such as symptoms assessed with questionnaires, nor urinary flow rates changed significantly between saw palmetto and placebo.
The negative outcome of this trial is in contrast to the good results the majority of BPH patients experience with a standardized saw palmetto berry preparation of good quality. Bioforce AG states that in their own clinical trials with Prostasan® the BPH symptoms decreased after treatment duration of 8 weeks between 35%-51%. Based on their considerable experience in designing clinical trials, the Bioforce researchers carefully evaluated the NIH study.
According to Andy Suter, Head of Medical Research, A.Vogel Bioforce AG, Roggwil, Switzerland "The study looks well designed and statistically sound but has one significant flaw: the patient selection. The authors themselves write in the discussion of the publication: a greater percentage of men in our study ...may have had LUTS (lower urinary tract symptoms- urinary problems) due to causes other than BPH". Suter goes on to state "At inclusion the diagnosis for BPH was solely based on symptoms. It would have been more accurate – particularly in a study of this importance – to perform ultrasound imaging of the prostate to determine its size or rectal palpitation to confirm the diagnosis."
Patients presented for inclusion also had a low average PSA (prostate specific antigen) value with a large standard deviation of 2.07±1.78. PSA is strongly correlated to the prostate size and this low value indicates that the majority of the patients might not be affected by BPH at all. A further inclusion criterion confirms this finding. The initial maximum urinary peak flow rates were rather high with 14.9 ml/s, a value which corresponds to a normal population with only minor BPH symptoms. A value of 10ml/s or lower represents in general patients most likely to be affected by BPH.
Suter, speaking for the Medical Department stated, "We are thus still convinced that standardized saw palmetto berry products are a good and safe treatment for mild to moderate BPH which has been reflected by everyday use and clinical experiences for more than 40 years.
Today Bioforce AG is one of the most prominent manufacturers of herbal remedies in many European countries, Canada, USA and Australia.
For more information contact Andy Suter at 011 41 71 4546203 or a.suter(at)bioforce(dot)ch
###