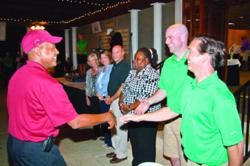 The nonprofit organizations we rally around, serving underprivileged youth, victims of crime or abuse and ex-offenders, are generally not the most recognized.
Nashville, TN (PRWEB) October 07, 2011
CCA, America's leader in partnership corrections, is proud to be supporting some of the area's most under-served nonprofits through its annual Chairman's Charity Golf Classic, held October 6, 2011 at the Hermitage Golf Course in Old Hickory, Tenn.
Nearly 300 non-professional golfers helped raise a record $260-thousand dollars, benefiting 27 Middle Tennessee nonprofits, which is the most ever assisted through the annual golf classic.
"The nonprofit organizations we rally around are generally not the most recognized," said Bart Verhulst, CCA vice president of partnership relations and chairman of the 2011 Golf Classic. "They are charities serving underprivileged youth, helping victims of crime or abuse or supporting ex-inmates, all with a focus on changing lives."
In Partnership with The Community Foundation of Middle Tennessee, the 2011 benefiting organizations include: Dismas, Inc., Family Foundation Fund, H.U.G.G.S. for Inspirational Men and Women, Mending Hearts, Inc., Safe Haven Family Shelter, Family and Children's Service, Next Door, Big Brothers Big Sisters of Middle Tennessee, CASA, Inc., Exchange Club Family Center, Men of Valor, Monroe Harding Inc., Fannie Battle Day Home for Children, Inc., Sexual Assault Center, Tennessee Coalition Against Domestic and Sexual Violence, YWCA of Nashville and Middle Tennessee, Down Syndrome Association of Middle Tennessee, Magdalene, Inc., Miriam's Promise, Project Return, Inc., Renewal House, You Have the Power, Inc., Aphesis House, Inc., Avalon Center, Good Neighbor Foundation, Be A Helping Hand Foundation and Salama Urban Ministries, Inc.
"When we all join together to support worthy organizations the impact can be powerful," said Damon Hininger, CCA president and chief executive officer. "The opportunity to collectively give many individuals a second chance to overcome obstacles and succeed is what it's all about. We're all winners when we can reach out and help."
In the last decade, CCA has contributed more than $2.2 million to area nonprofit organizations.
About CCA
CCA is the nation's largest provider of partnership corrections to federal, state and local government, operating more than 60 facilities, including more than 40 company-owned facilities, with approximately 90,000 beds, in 20 states and the District of Columbia. In addition to providing the residential services for inmates, CCA facilities offer rehabilitation and educational programs, including education, vocation, religious services, life skills and employment training and substance abuse treatment. For more, visit http://www.cca.com and http://www.ccacommunities.com.
###